First, I must mud
and wait for drying,
sand and dust,
prime and wait,
when I am impatient
to see the smear of color
on the wall, the completion
of decor and dreams,
the room at last a space
of respite to live in.
Impatient I am, too, for
the painting of me,
chafe at the sanding block,
wince at application of another coat,
the curing of a life,
my mind always imagining what could be,
amazed at what finally is instead.
This poem first appeared in An Ariel Anthology (2014).
Used here with the author's permission.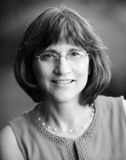 Liz Rhodebeck has loved writing since she was a child and gave poems and stories as gifts. Author of several chapbooks, she was awarded the Wisconsin Fellowship of Poets' 2014 Muse Prize. When she's not writing, Liz likes to dabble in art, and she's quite fond of bagpipe music. A ministry leader at her church where she lives in Menomonee Falls, Wisconsin, Liz is also a founding member of the faith-based group Grace River Poets. Learn more about her at http://www.waterwriter.com/.
Liz:
Thank you all for your kind comments.
Posted 02/25/2016 07:21 AM
transitions:
Loved it, great two end lines. Judy W.
Posted 02/24/2016 07:54 PM
Mary Lou Taylor:
Here's a poem I will send to friends.
Posted 02/24/2016 01:09 PM
Janet Leahy:
Interesting poem, I like the way it travels from the remodeling we usually think of to the remodeling of our lives, really nice transition there and we do need patience for both!
Posted 02/24/2016 12:17 PM
Jo:
Thanks Liz. Love your poems.
Posted 02/24/2016 10:31 AM
ElizabethP:
Well done.
Posted 02/24/2016 09:29 AM
k10ld:
++ last line.
Posted 02/24/2016 08:52 AM
paula:
So great to hear your voice! Love this poem.
Posted 02/24/2016 06:49 AM