Embered over the eastern seaboard,
the sun takes the entire horizon as its hearth.
The hum of daybreak ignites, flames lick
away the dark, and the amorphous takes shape
in apricot, chalky blue and crimson pink.
Sand, sea and sky stretch for miles, throbbing
like the heartbeats of Rothko color bands.
A white Adirondack chair sits abandoned
in the bent and frozen grasses.

My friend turns to me and says,
Never again will life hold us
in the same way it does today.

From Joy in the Morning (Bellowing Ark Press, 2008).
Used here with the author's permission.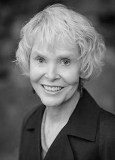 Mary Jo Balistreri is the author of two poetry books, Joy in the Morning and Gathering the Harvest, plus a chapbook, Best Brothers, published by Tigers' Eye Press. Mary Jo feels that losing oneself in the process of writing is healing, and that sharing poems, learning about the experiences of others, and the sensibilities and events that move them widens our circle of community. Learn more about her at http://maryjobalistreripoet.com/.
TheSilverOne:
Beautiful...written with an artist's eye.
Posted 02/26/2016 12:59 PM
jtmilford:
Jo, A beautiful and emotional descriptive scene of sun rise contrasted with the abandoned white Adirondack chair. Also, this friend this moment and you are never again. A beautiful ending.
Posted 02/25/2016 09:13 PM
Jo:
Thank you to all of you for sharing this day with me in your comments. Much appreciated.
Posted 02/25/2016 08:38 PM
twinkscat:
Beautiful, haunting poetry Jo...I so enjoy your writing!
Posted 02/25/2016 07:52 PM
Dorcas:
There are peaks of beauty and emotion. Like my long ago friend said: "You can live your whole life in one day."
Posted 02/25/2016 05:46 PM
rhonasheridan:
I just endorse what everyone else has said . This is a special poem.
Posted 02/25/2016 03:13 PM
Janet Leahy:
Jo, you set this scene beautifully, and then give us the gift of appreciating each moment. Thank you.
Posted 02/25/2016 03:12 PM
transitions:
MJB paints with color in this poem in her own inimitable way. Beautiful imagery with the last two lines a gift to etch into your heart...
Posted 02/25/2016 12:38 PM
peninsulapoet:
I had to read this over and over, to fix it permanently in my heart. Donna Hilbert
Posted 02/25/2016 11:42 AM
Michael:
I liked this one from the first line, "Embered over the eastern seaboard," I put it in my journal. Thank you and thanks to the Grace River Poets for your contributions to faith-based poetry.
Posted 02/25/2016 10:01 AM
KevinArnold:
Oh yes, life's little moments, captured, as Eliot would say, Like a patient etherized upon a table.
Posted 02/25/2016 09:47 AM
carel:
Lovely--reminds me of a poem by Mary Oliver, "Why I Wake Early in the Morning." First line, "Hello sun in my face."
Posted 02/25/2016 09:00 AM
ElizabethP:
Awesome. Thank you!
Posted 02/25/2016 09:00 AM
becky evans:
Lovely! Beautifully captured!
Posted 02/25/2016 08:59 AM
ed werstein:
Superb!
Posted 02/25/2016 08:40 AM
vscholtz:
Beautiful, descriptive and with a message that really grabs me. Thanks.
Posted 02/25/2016 07:57 AM
Liz:
Mmm...I have sat on that beach. Delicious! Thank you also, Jayne, for the plug for GRP!
Posted 02/25/2016 07:20 AM
mimi:
so lovely, Mary Jo...I want to post the last two lines where I'll read them every day...thank you Sharon Auberle
Posted 02/25/2016 06:49 AM
paula:
I love the first lines. Good to hear from you.
Posted 02/25/2016 06:45 AM
Jean :D:
Love the descriptions of the sunrise, could almost hear the waves washing on the beach, lovely!
Posted 02/25/2016 06:21 AM
Gary Busha:
Yes!
Posted 02/25/2016 06:16 AM