The New Year wedded the winter --
Winter, the harsh old king!
Whose head was a snow-capped mountain --
Whose breath was the North-Wind's sting.
But he wooed and wedded the maiden,
And gave her a robe of snow;
And hung on her breast bright jewels,
With a lace-work of frost below.
And the days flowed on like a river;
And the mother looked up and smiled,
When she laid in the arms of Winter,
Their beautiful first-born child.
And what shall we name our infant?
She said to the harsh old king.
And the old man kissed her softly,
And said, we will call her Spring.
And how shall we robe our darling?
I have always dressed in white!
But she must be clothed in colors --
With something soft, and bright.
And the old man smiled and answered,
We will give her a robe of green;
Trimmed with the fairest flowers,
And buds, that were ever seen!
And he kissed the beautiful infant,
Softly on cheek, and brow,
And he clasped the hand of the mother,
And said I am going now!
The days of my life were numbered,
And the last is slipping away.
But I leave you to guard our darling,
Wherever her steps shall stray.
This poem is in the public domain.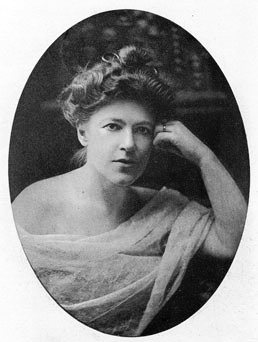 Ella Wheeler Wilcox (1850-1919) was a popular and prolific poet. Published and lauded before she even graduated from high school, Ella preferred to write happy, upbeat poetry and was much beloved for it. More than a dozen of her poems are included in the book, Best Loved Poems of the American People (Doubleday, 2008). The familiar saying, "Laugh and the world laughs with you, weep, and you weep alone. . ." comes from her best-known poem, "Solitude." A morally strong and spiritual person, Ella believed that her purpose on earth was to practice kindness and service. Read more about her here.
Jo:
A BEAUTIFUL POEM, JAYNE. I loved it.
Posted 03/02/2016 12:47 PM
twinkscat:
Hurray Ella!
Posted 03/01/2016 04:51 PM
Jancan:
What a BEAUTIFUL poem! People who sneer at rhyme, rhythm, and dramatic personifications should read this. Great choice! Janice
Posted 03/01/2016 10:41 AM
pwax:
A beautiful poem. Thank you for presenting it.
Posted 03/01/2016 10:40 AM
erinsnana:
I loved this poem!
Posted 03/01/2016 09:39 AM
KevinArnold:
Thanks for posting this too-often-forgotten poet.
Posted 03/01/2016 09:10 AM
cork:
True romance!
Posted 03/01/2016 08:41 AM
Sherry:
What a wonderful poem! Such lovely images; yes, it is magical.
Posted 03/01/2016 08:28 AM
ElizabethP:
Lovely...
Posted 03/01/2016 08:15 AM
Latha:
Lovely! Beautiful! Such a delight!
Posted 03/01/2016 05:42 AM
Jean :D:
I too have never read this poem, what a delightful twist on the Seasons. Even "Old Man Winter" is given a gentle persona. Enchanting poem.
Posted 03/01/2016 04:54 AM
rhonasheridan:
I love this lovely ladies poetry - but have never read this one. It is so beautiful. Thank you for giving it to us
Posted 03/01/2016 04:04 AM
Newt:
I just woke from an awful dream. This is just so beautiful. I love spring with its many different greens, yellow flowers. It's the best season, so full of promise. This is truly, wonderful poetry.
Posted 03/01/2016 03:04 AM