Mama called to ask if smoke alarms give death cries.
Hers just now squealed, she said,
and then fell to the floor.
Yes, as Iíve been trying to warn her,
there can be a high rate of failure-to-thrive
among smoke alarms, chairs, pencils,
and such household plunder, which is,
after all, an assemblage of orphans.
Attention is the key to prevention:
rotate your dishes
that the back bowls not feel neglected.
Turn ceiling fans off; allow them to steady themselves.
When a pen dries up, donít let
the other pens watch you throw it away.
Smooth your sheets; unbend page corners;
straighten charleyhorsed rug fringe.
Thank your mailbox for its daily gifts.
At night when you lock your doors,
say a small benediction of tumbler and wood.
Impress your pillow
with useful dreams.††

From Our Bodies Remember (Sowís Ear Press, 1999).
Used here with the authorís permission.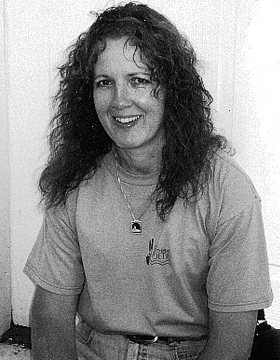 Dana Wildsmith is the author of five collections of poetry and a memoir, and was a Georgia Author of the Year finalist. Born and raised in rural South Georgia, she traveled extensively as a Navy wife before settling in Bethlehem, Georgia, on a century-old family farm outside Atlanta. Dana's love of family, nature, music, tradition, and life's simple joys is the focal point of her poignant, compelling work, which has been featured in numerous journals, magazines, and anthologies, including the highly acclaimed Listen Here: Women Writing in Appalachia. She is a gifted teacher as well, sharing her passion for language from ESL classes at Lanier Technical College to residencies acoss the country. Dana's latest artist-in-residence gig will be in the Everglades National Park in April. Learn more about her at www.danawildsmith.com.
Mary Lou Taylor:
Great fun.
Posted 03/02/2016 12:40 PM
Lori Levy:
Love the first and last lines and the way it progresses from the beginning to the end!
Posted 03/02/2016 10:02 AM
Jancan:
This is so clever and entertaining. Made me smile! Janice
Posted 03/02/2016 09:38 AM
paradea:
I love this. 'charleyhorsed rug fringe' is a wonderful visual. I pat my old car on the dash and thank her for 'still running'!
Posted 03/02/2016 09:34 AM
barbsteff:
Clever! and funny!
Posted 03/02/2016 09:28 AM
marilynfleming:
I rarely comment, should do it more, but I really enjoyed your poem, Dana.
Posted 03/02/2016 09:28 AM
Caro70:
Wonderful poem, Dana! Makes the ordinary extraordinary in such a creatively delightful way! Well done!
Posted 03/02/2016 08:59 AM
KevinArnold:
Impress your pillow indeed! How fun!
Posted 03/02/2016 08:44 AM
cork:
I feel guilty now about the back bowls.
Posted 03/02/2016 08:28 AM
rksanders@charter.net:
Yes! And don't forget to talk to the supposedly inanimate objects around you.
Posted 03/02/2016 08:24 AM
Larry Schug:
Awesome poem! The lesson it gives us about paying attention to being alive is so important and it is done in such an entertaining way.
Posted 03/02/2016 07:15 AM
Linda Anger:
I remember Dana read this at the YDP poetry weekend in North Carolina - and loving, most of all, the part about not letting pens watch you throw away their dried-up colleagues. Thanks for sharing it today, Jayne!
Posted 03/02/2016 06:34 AM
phebe.davidson@gmail.com:
I'd write something longer but I have to get back to rotating those second-best dishes. I tend to go right to left rather than back to front, and I always leave post-its with arrows on the shelf edges so I know which way I'm headed.
Posted 03/02/2016 06:08 AM
Katrina:
I love the way I am involved in Mama's consciousness in the first line and dispatched to a different state of my own in the last, all without worrying animate objects.
Posted 03/02/2016 02:07 AM