Here's what I think:
God put us here to do more than take up space
and mow grass.
We are here to contribute something.
Teachers, doctors, scientists, artists--all shoo-ins.
Pro ballplayers, fashion designers--on shaky ground.
Most of us fall somewhere in between.
Yesterday, for example, I made my family's favorite dessert,
smiled at a solemn old man,
and let three strangers go ahead of me in the turn lane.
Today, however, I fear I owe the universe a sizable debt
for the peace, love, and joy my black mood
sucked straight out of the ozone.
So be it.
We are not perfect, and there is no grade.
There is only opportunity.
Carpe carefully.

From She of the Rib: Women Unwrapped (CRM Books, 2006)
Used here with permission.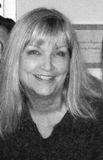 Jayne Jaudon Ferrer is the author of four books of poetry and a nonfiction book about games. She speaks frequently at chuches, schools, and writing-related events and her work has appeared in hundreds of publications. Jayne is the founder and editor of YourDailyPoem.com and enjoys reading, music, old movies, and good conversation. A native Floridian, Jayne now lives in Greenville, South Carolina. Learn more about her at www.jaynejaudonferrer.com.
lindajett:
Timely and appreciated.
Posted 03/06/2016 11:06 AM
jayne:
Thank you for all your kind remarks!
Posted 03/04/2016 08:52 PM
Shoshauna Shy:
Love to read something of *yours*, Jayne!
Posted 03/04/2016 07:19 PM
mimi:
Truth put perfectly, Jayne!
Posted 03/04/2016 07:13 PM
Dorcas:
Very nice. Thank you.
Posted 03/04/2016 04:52 PM
Jo:
One of my favorite poems too. Carpe carefully is a great message. Happy you put this one up again. We all need reminders.
Posted 03/04/2016 02:52 PM
Mary Lou Taylor:
I intend to carpe carefully! It's Random Acts of Kindness in our town for a full week.
Posted 03/04/2016 01:46 PM
Judith Heron:
So glad you honour us with one of your own poems from time to time, Jayne. This one is definitely a 'grass roots special'. Many thanks.
Posted 03/04/2016 11:36 AM
Lori Levy:
Great poem, Jayne! Loved the idea of your black mood sucking peace, love, and joy "straight out of the ozone."
Posted 03/04/2016 11:33 AM
transitions:
Yes, we are all here to contribute something important. Not to receive visible rewards or money though both are nice, one necessary. Point taken and loved the poem ~
Posted 03/04/2016 11:24 AM
twinkscat:
Love the title and the last line especially...I can so relate to this poem.
Posted 03/04/2016 11:08 AM
TheSilverOne:
Great message to start the day with...and every day.
Posted 03/04/2016 10:40 AM
Jean Colonomos-1:
Jean Thank you for "there is no grade." Today I'm "carpe-ing carefully."
Posted 03/04/2016 10:22 AM
Michael:
Gem of a poem, Jayne. I, for one, needed this message. Thank you.
Posted 03/04/2016 09:58 AM
Janet Leahy:
A great reminder that each day brings opportunity, thanks Jayne.
Posted 03/04/2016 09:41 AM
paradea:
'Carpe carefully'! I love this.
Posted 03/04/2016 09:28 AM
rhonasheridan:
I smiled at ancient gentleman the other day. He was having trouble opening a heavy door. He gave me an angry stare. Straightened up - and noisily slammed the door! My finer self felt very silly. Loved your poem. Bet they all loved your pudding!
Posted 03/04/2016 08:57 AM
Gilbert Allen:
Compassionate candor and compelling images. A fine poem.
Posted 03/04/2016 08:52 AM
hujsaked@aol.com:
Nice poem, Jayne. everyone possesses a finer self and a less-than-finer self. The eternal problem is which is allowed to, or made to,triumph over the other. -anon
Posted 03/04/2016 08:47 AM
JanetruthMartin:
thank-you for sharing this!love it. linking to this one today so others may be inspired and reminded!
Posted 03/04/2016 08:01 AM
Sherry:
so right on every point
Posted 03/04/2016 07:44 AM
jonidee61:
Lovely!
Posted 03/04/2016 07:11 AM
plgoodman:
Right on. Thankfulness.
Posted 03/04/2016 06:40 AM
Donal Mahoney:
It is nice to see God acknowledged as well as the fact that we are not perfect, especially during this political season where brouhaha at times reigns.
Posted 03/04/2016 05:30 AM
phebe.davidson@gmail.com:
This is a very smart poem---in all the best ways. Carpe carefully, indeed. I will!
Posted 03/04/2016 05:09 AM
Ross Kightly:
A man famous in the world of Test Cricket (and therefore virtually unknown in the USA no doubt) entitled his autobiography 'Squeezing the Orange' because that was how he saw each day: a juicy citrus fruit to be drained of all its beautiful juices! He is a nice man to talk to, and full of wise or silly comments. Another day, despite the snow in March here, for me to carpe by the soft peel! Thanks for this one, Jayne.
Posted 03/04/2016 03:17 AM