I sit and listen in the midst
of my sonís crowd, speak
a bouncy banter.
We kill time
with the Simpsons before
David plays jazz.
In jeans and casual jackets,
we drink Coors,
check the wind-tossed sky,
the flash of lightning, hoping
in spite of the weather, a crowd
will pour through the door.
After a while, I hear a shift
of tone, a carefulness
I hadnít noticed before.
In a conversation of augmented fifths
and ninths, the friends address me
in safe thirds. I listen more carefully.
Where is the cutting edge,
the forward motion? We converse
in C major, squarely metered.
I sit back stunned. The lack
of dissonance strikes a new chord.
When did Youth leave me and move on?
I adjust my position on the barstool,
lean into her absence, wonder
how I never saw her go.
From Joy in the Morning (Bellowing Ark Press, 2008)
© Mary Jo Balistreri
Used with the authorís permission
†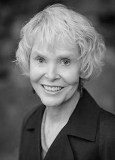 †
Mary Jo Balistreri is the author of two poetry books,†Joy in the Morning†and†Gathering the Harvest,†plus a†chapbook,†Best Brothers,†published by Tigersí Eye Press.†Mary Jo feels that losing oneself in the process of writing is healing, and that sharing poems, learning about the experiences of others, and the sensibilities and events that move them widens our circle of community. Learn more about her at†http://maryjobalistreripoet.com/.
†
grateful quill:
Insightful. I like poems that make me think and this is one.
Posted 12/21/2014 06:40 PM
barbsteff:
Masterful, and an experience I can relate to! Well done, Mary Jo.
Posted 12/20/2014 12:15 PM
plgoodman:
How much more the musician sees and hears than us mortals! Absolutely love the sensitivity in this poem.
Posted 12/19/2014 07:12 PM
transitions:
We, of a certain age 'outside' can relate, while 'inside, we are whatever age we want to be ~ You touch a lot of us with this beautifully written poem, Jo. Namaste, Judy
Posted 12/19/2014 07:11 PM
Mary Lou Taylor:
Here's a press that understands a good poem when it sees one.
Posted 12/19/2014 01:03 PM
mimi:
though it is not music, I learn much from my grown son David--love the poem, Mary Jo. And p.s., granddaughter Grace inspired me to pick up the guitar at this ancient age! Sharon Auberle
Posted 12/19/2014 11:58 AM
pwax:
Love the ending!
Posted 12/19/2014 10:26 AM
Janet Leahy:
Jo this is one of my all time favorites, love how the music runs through the poem.
Posted 12/19/2014 09:52 AM
Glen Sorestad:
I loved this one, Mary Jo, maybe because I love jazz and have shared this experience almost down to the T.
Posted 12/19/2014 09:04 AM
lincolnhartford:
For me, the poignance is more than our loss; maybe theirs. The switch to safety among the young seems a bit like a return to the 50's. Where is the cutting edge? It begs conversation, but then that wouldn't be safe. An important insightful poem.
Posted 12/19/2014 08:44 AM
Wilda Morris:
Well constructed poem, Jo. I love it!
Posted 12/19/2014 08:17 AM
dotief@comcast.net:
I hated losing "that girl." Although, I am sure she is still inside my wrinkly self. Better than the alternative!
Posted 12/19/2014 08:09 AM
vscholtz:
Hey, Jo - Glad to see you smile and your witty words.
Posted 12/19/2014 06:37 AM
paula:
I've always loved this one. We are so connected to our children when they are young and then gradually they drift into their own lives.
Posted 12/19/2014 06:26 AM
rnordstrom:
Very nice poem.
Posted 12/19/2014 05:39 AM
twinkscat:
Love the ending...I have been feeling the same way lately...
Posted 12/19/2014 12:53 AM
Katrina:
I love this. I was going to call it understated, but it is actually unstated with a poignancy fully delivered.
Posted 12/19/2014 12:48 AM
TheSilverOne:
Those moments of truth hit hard and sudden. Remember and can relate to this meaningful poem. Well done.~~~Doris
Posted 12/19/2014 12:06 AM