Somebody's idea of tigers
involved a man with a whip
making them jump through hoops of fire.

The tiger disagreed.
© 2009 by Ginny Lowe Connors
Used with the author's permission.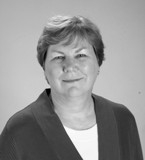 Ginny Lowe Connors is an English teacher in West Hartford, Connecticut, where she serves as that city's Poet Laureate. Author of two published poetry collections and editor of several anthologies, Ginny also runs a small poetry press, Grayson Books. Her accolades include the Sunken Garden Poetry Prize, the Atlanta Review International Poetry Competition, and numerous prizes sponsored by the National Federation of State Poetry Societies-including their coveted Founders Award. Learn more about Ginny at www.ginnyloweconnors.com.  
rhonasheridan:
Well done Tiger,
Posted 12/19/2014 12:34 AM
paradea:
Great!! Love it!
Posted 12/18/2014 08:48 AM
Sherry:
I love it. Actually, the title should be the poem. No animal should be used to entertain us.
Posted 12/18/2014 08:29 AM
phebe.davidson@gmail.com:
Hah! I like this!
Posted 12/18/2014 06:03 AM
Joe Sottile:
Clever!
Posted 12/18/2014 12:58 AM
TheSilverOne:
Humorous, brief and gets right to the point. Fun poem.
Posted 12/17/2014 11:24 PM