At evening when the lamp is lit,
Around the fire my parents sit;
They sit at home and talk and sing,
And do not play at anything.

Now, with my little gun, I crawl
All in the dark along the wall,
And follow round the forest track
Away behind the sofa back.

There, in the night, where none can spy,
All in my hunter's camp I lie,
And play at books that I have read
Till it is time to go to bed.

These are the hills, these are the woods,
These are my starry solitudes;
And there the river by whose brink
The roaring lions come to drink.

I see the others far away
As if in firelit camp they lay,
And I, like to an Indian scout,
Around their party prowled about.

So, when my nurse comes in for me,
Home I return across the sea,
And go to bed with backward looks
At my dear land of Story-books.
This poem is in the public domain.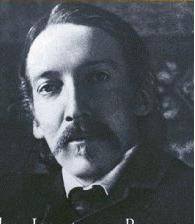 Scottish writer Robert Louis Stevenson (1850-1894) is, for many of us, the first poet to whom we were introduced, through his wonderful book, A Child's Garden of Verses. Though he came from a family of engineers and it was expected he would follow suit, Robert wrote stories even as a child; no one was really surprised when, three years into his engineering studies at the University of Edinburgh, he abandoned them to study writing. Always an avid traveller, despite lifelong poor health, Robert spent much of his life looking for a place to live that offered some respite from his illnesses. A prolific writer of poetry, fiction (Kidnapped, Treasure Island, and The Strange Case of Dr. Jekyll and Mr. Hide are his best known), travelogues, and political essays, he is properly revered today as a major literary figure, although in the early twentieth century, he was temporarily dismissed and disdained as "a children's author." Ultimately, Robert ending up living in Samoa, happy and productive until a stroke abruptly ended his life at the age of 44.
mjs.ontheroad@gmail.com:
Lovely poem, and new to me, although I still have a *lot* of the verses from the "Child's Garden" easy to call up. My grandson knows "How do I love to go up in a swing . . " Too bad these are now considered passe in so many ways.
Posted 03/10/2016 09:50 AM
Jean :D:
This is the poet & book our mother read to my sister & I every night at bedtime. We could pick the poem we wanted & knew most of them by heart. We never wanted a different book, poor mother. Thank goodness she loved poems!
Posted 03/10/2016 08:54 AM
ElizabethP:
What fun! Thanks. He is always a great read.
Posted 03/10/2016 08:09 AM
Sherry:
His rhyming is so clever and his lines hold a lovely lilt.
Posted 03/10/2016 07:22 AM
Newf:
Hadn't thought about that poem in a long time. It's beautiful.Nice to see some of the old poems I remember from growing up. I memorized so many and love them.Thank you.📕
Posted 03/10/2016 06:29 AM