Pagliano scooters maneuver in traffic,
trench-coated cyclists slice between cars,
women in high heels navigate cobblestone streets,
Watch out!
The bus, the cab, the bike won't stop?           
                           It's Paris!

At night a neighbor returning from work
shouts into his phone while climbing
the circular stairs to his place,
passes our second floor room.
Our room, its windows open to night
and noise, to cigarette smoke that drifts up
from the street. Pigeons coo, sit
on slate roofs and the ancient church bells
chime through the night.
It's 2:00AM, in animated French they fight,
rev up?
                          It's Paris!
Garbage pick-up, it's 6:00AM,
debris and broken glass crash,
the truck rumbles down Rue La Roche
announcing Wednesday in Paris.

Today will it be Marais, Montmartre
or Champs-Élysées? Who knows, who cares,
                          It's Paris!

© by Norma Bernstock.
Used with the author's permission.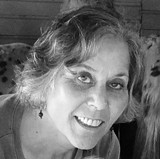 Norma Ketzis Bernstock records her travels and life experiences through poetry and photography-based art. Now retired from a 34 year career in education, Norma lives in and works in her home studio in the woods of the Delaware Water Gap National Recreation Area. Her poetry chapbook, Don't Write a Poem About Me After I'm Dead, was published in 2011 by Big Table Publishing. She is currently editing poems for her second book.
Indigoinshohola:
Now, I must visit Paris! All smiles!!
Posted 03/09/2016 03:21 PM
KevinArnold:
Great fun! The obverse of a pastoral.
Posted 03/09/2016 11:56 AM
Kbc:
Reminds me of our trip to Paris in '05, a rented apartment and 2 fantastic bakeries between us and the nearest Metro stop!
Posted 03/09/2016 11:07 AM
Lori Levy:
This poem definitely takes us to Paris! Enjoyed the journey!
Posted 03/09/2016 10:12 AM
mjs.ontheroad@gmail.com:
Tres bien! Merci beaucoup!
Posted 03/09/2016 09:48 AM
erinsnana:
I loved your poem! I've been to Paris three times...
Posted 03/09/2016 09:42 AM
Trivia hand:
Picture me smiling, remembering and getting lost in time. Wonderful!
Posted 03/09/2016 09:10 AM
KayRay:
Wonderful travel poem...great descriptions -- you really feel like you are there!
Posted 03/09/2016 09:08 AM
Jean Colonomos-1:
Jean: Ah, the romance of Paris. Norma, you've captured it well.
Posted 03/09/2016 08:59 AM
Michael:
Nicely done, Norma. Remember you vividly from the YDP retreat last year. I especially like, "Our room, Its windows open to night and noise"
Posted 03/09/2016 08:51 AM
blueskies:
Oo~la~la! Am I still 'there' in Paris? Lov'd IT, Norma. Many thanks for the shining visit.
Posted 03/09/2016 06:27 AM
Newf:
I've never been to Paris, but I can see it clearly. Even smell it. Wonderful writing!
Posted 03/09/2016 06:08 AM