For two weeks Ria and I had tiptoed around
The mother cat's box, peering in whenever she
Would let us look, the dog's hot breath
At our backs.
And the kittens!
All heads, shut eyes bulging, the world
All fur, and mother's milk, and wriggling.
Not ours to touch till their eyes had opened.

We waited out the long hot days in our cotton
Pants, a year too young for undershirts,
Under the rain of the sprinkler, harnessed
Pete, the retriever, as horse in our sidewalk
Theater, galloping to the rescue of the princesses--
Us too, shut up in the swing set's interior.

It was early, the day it happened, so early it still
Was cool, and grass heavily wet, and the road
Sharp with the smell of new tar: Ria banging
On my door, saying the kittens were gone. We searched
The house; Pete gone too, and his footprints
Back and forth on the floor.
Running and calling
Through the yards, we heard his bark; found him
Curled around four wriggling kittens climbing his legs,
Leaving a trail of tiny tar footprints, blinking
Their eyes, nuzzling his soft mouth.
This poem first appeared in The Christian Science Monitor.
Used here with the author's permission.
†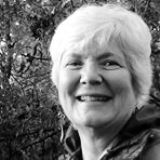 Robin Chapman is a poet, painter, and student of language. An organic gardener and early morning exerciser, she is retired from teaching courses in child language development and disorders at the University of Wisconsin-Madison. Robinís ninth collection of poems, Six True Things, will be published by Tebot Bach any day now. She lives in Madison with her husband Will Zarwell, who plays the accordion.
Jo:
Back to my computer just in time to read about this endearing experience. Thanks again, Robin. You never fail us with your wonderful poems.
Posted 03/27/2016 07:29 PM
twinkscat:
What a wonderful experience, and a touching poem...
Posted 03/27/2016 03:56 PM
transitions:
Animals are smarter in all the most important ways, not to mention humane. Lovely poem ~
Posted 03/27/2016 01:40 PM
Janet Leahy:
A touch of mystery toward the end, but then a happy ending, thanks Robin.
Posted 03/27/2016 01:26 PM
Marilyn L Taylor:
Heartwarming story, Robin-- and well told.
Posted 03/27/2016 12:58 PM
Jancan:
Sweet story told in a very appealing poem! Janice
Posted 03/27/2016 12:00 PM
Marileta:
Oh, this could be a picture book!
Posted 03/27/2016 09:55 AM
jeeger:
I could see it but more importantly, I could FEEL it! Thanks Robin!
Posted 03/27/2016 09:11 AM
mimi:
so glad this poem had a happy ending, Robin! thanks for the early morning smile...
Posted 03/27/2016 07:25 AM