I stand at the front door, 
sip the morning light. 

Peachy-pink rays 
finger the tops of pine trees 
as night mist whispers farewell. 

My dewy lawn is crisscrossed 
with scurry rabbit tracks.
And somewhere a cardinal
greets the pretty, pretty day. 
© 2015 by Merle Hazard.
Used with the author's permission.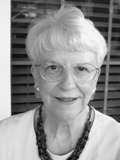 Merle Hazard lives in Macon, Georgia. Her poems have appeared in a number of secular and inspirational publications. A home health and hospice nurse for many years, she worked as a director of programs as well as at bedsides. Now retired, Merle enjoys reading, walking, playing bridge, and spending time with friends and family--including her two sons and five grandchildren.
barbsteff:
Good to read your work here, Merle! Nicely done. Barb Germiat
Posted 03/28/2016 01:42 PM
Lori Levy:
Very peaceful.
Posted 03/28/2016 01:02 PM
wordlover:
This poem really spoke to me and made me smile. What an economy of words and exactness of the moment.
Posted 03/28/2016 12:45 PM
ladybug:
I love "sip the morning light." A serene poem - Susan M.
Posted 03/28/2016 11:46 AM
Dfantini:
Thank you for this peaceful morning meditation, Merle! I was sipping my coffee, watching a robin perched in the bare ash tree as I read it this spring morning in Wisconsin.
Posted 03/28/2016 10:14 AM
ElizabethP:
Love it. Can see it all. Thanks!
Posted 03/28/2016 09:25 AM
KevinArnold:
Fun. Concise.
Posted 03/28/2016 08:29 AM
Jancan:
Concise and very lovely--great use of personification. Janice
Posted 03/28/2016 08:16 AM
plgoodman:
You've nailed it beautifully, Merle, without the sentimentality that often trips us up. Well done.
Posted 03/28/2016 07:59 AM
rhonasheridan:
Delightful. Loved the pretty-pretty day.
Posted 03/28/2016 04:02 AM