I am somewhat afraid of poems.
I do not wish to wrestle belligerent ones into submission.
Nor do I wish to flood them with klieg lights to get to
  the guts.
A poem like that, I find it sensible to avoid.
In fact, I would march myself right out of that cell,
and even as the lifers are rattling their stanzas on the  bars,
I will be looking for an outside door.
 
Bring me a poem of light and shadow,
                  noonday sun, glaciers,
                  aspens that rattle in the four o'clock wind.
Bring verses filled with meat and potatoes,
                  Chevrolets and tapioca.
Write to me about three-legged races and dear Uncle
              who came to put down the dog.
Show me breath rising from a beaver house,
                  the smell of August-raked hay.
Bring me a brother with periwinkle eyes,
              sisters who remember, bring a Sears catalogue,
              an aerogram from Poland, homesickness.
 
I am telling you this.
There were four small people in sturdy shoes.
A dog named Bob.
They lived in a house bordered with gooseberries
  and red currants.
They slept under Wedding Ring quilts.
Beside the potato fields. Between the rivers.

From Four Small People in Sturdy Shoes (Houle Printing, 2014).
This poem first appeared in the Ontario Poetry Society's 2012 RopeDancer Anthology.
Used here with the author's permission.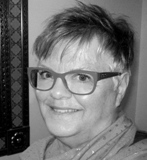 Linda K. Thompson calls herself "a plain spoken poet." A long-time resident of Port Alberni, on Vancouver Island, she grew up on the mainland in the Pemberton Valley, an experience which has been the basis for many of her poems. Linda loves traveling and writing, and indulges those twin passions by attending poetry retreats whenever she can. Her chapbook, Four Small People in Sturdy Shoes, was published last year. Learn more about Linda at www.lindakthompson.com.
rhonasheridan:
This is a wonderful poem. I agree with her views on poetry and shall now go and read her lovely verse to my friends. They will love it too.
Posted 04/05/2016 01:29 AM
paula:
A lovely amalgam of images.
Posted 04/04/2016 06:22 AM
gsergenian:
I LOVE this. Beautiful images.
Posted 04/03/2016 09:23 PM
ElizabethP:
Wonderful!
Posted 04/03/2016 09:01 PM
paradea:
Love this!!!
Posted 04/03/2016 07:22 PM
Lori Levy:
Beautiful poem with many great lines!
Posted 04/03/2016 04:42 PM
Dorcas:
Went straight to my heart and pen.
Posted 04/03/2016 04:03 PM
Jo:
Refreshing, shining, and full of life. Thank you so much. It's a keeper.
Posted 04/03/2016 03:39 PM
JudithTullis:
I find myself right in the middle of this poem, my leg and my best friend Valerie's leg in a gunny sack navigating the three-legged race at camp, homesick for Mom and her tapioca pudding. Thanks for these wonderful words.
Posted 04/03/2016 02:39 PM
Jancan:
I love this highly descriptive potpourri of images and your treatment of the topic. Janice
Posted 04/03/2016 02:18 PM
transitions:
Wonderful
Posted 04/03/2016 10:50 AM
mjs.ontheroad@gmail.com:
Wow! It's been a long time since a poem actually brought tears to my eyes! Thank you, Linda. Thank you, Jayne. --and thank you, Newf, for the beautiful quote!
Posted 04/03/2016 10:18 AM
wendy morton:
For the joy of poetry, this poem!!
Posted 04/03/2016 10:16 AM
Newf:
Where are now the captains Of the narrow ships of old, Who with valiant souls went seeking For the fabled fleece of gold. In the shrouded mist of ages, in the dawn oh history. When the ringing songs of Homer First re-echoed o'er the sea. Apropos of nothing, I just like it.
Posted 04/03/2016 10:06 AM
Glen Sorestad:
A very apt choice! Much appreciated.
Posted 04/03/2016 09:01 AM
mimi:
love this, and couldn't agree with you more! thanks for "plain speaking!"
Posted 04/03/2016 07:52 AM
Sarah Russell:
My sentiments as well. Like Linda, I love the third stanza.
Posted 04/03/2016 07:48 AM
phebe.davidson@gmail.com:
I love this!
Posted 04/03/2016 07:23 AM
Linda Anger:
Simple, clear, and delightful! Thank you, Jayne, for passing this on, and thank you, Linda for your "plain spoken" clarity. I particularly love the third stanza.
Posted 04/03/2016 06:21 AM
r1manchester:
A-OK, love the style, love the substance!
Posted 04/03/2016 05:10 AM