Oh, to be in England
Now that April's there,
And whoever wakes in England
Sees, some morning, unaware,
That the lowest boughs and the brushwood sheaf
Round the elm-tree bole are in tiny leaf,
While the chaffinch sings on the orchard bough
In England now!

And after April, when May follows,
And the whitethroat builds, and all the swallows!
Hark, where my blossomed pear-tree in the hedge
Leans to the field and scatters on the clover
Blossoms and dewdrops at the bent spray's edge.
That's the wise thrush; he sings each song twice over,
Lest you should think he never could recapture
The first fine careless rapture!
And though the fields look rough with hoary dew,
All will be gay when noontide wakes anew
The buttercups, the little children's dower
Far brighter than this gaudy melon-flower!
This poem is in the public domain.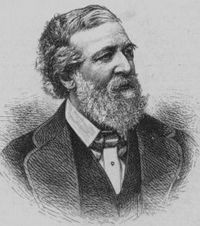 Robert Browning (1812 - 1889) was an English poet and playwright.  Born to supportive, educated parents with a keen appreciation for the arts, he was a bright and eager student who loved and wrote poetry before ever reaching his teens.  Recognition and publication were a long time in coming; though Robert's dramatic monologues are today considered brilliant and he is recognized as one of the 19th century's most prominent poets, he endured much criticism during his lifetime.  He fell in love with fellow poet Elizabeth Barrett and, against her father's wishes, they eloped to Italy and remained there until Elizabeth's death.
Dorcas:
What lovely thoughts of a place of to long for, and the more that one can remember and feel at home in the reflection.
Posted 04/17/2016 05:35 PM
ghctenmile@earthlink.net:
Glad to have poets' responses to Browning's April. Thanks to you all and to Jayne.
Posted 04/17/2016 04:13 PM
Katrina:
When I read this poem, some trucks were trashing the red-tiled garages, where the lady next-door throws bread for the birds outside my bedroom window, and rain was pelting down in Bristol. My home-thoughts were for Aberdeen.
Posted 04/17/2016 04:12 AM
transitions:
Nothing as sweet as April in England, like Browning, ah, how I wish I were there ~
Posted 04/16/2016 05:56 PM
rhonasheridan:
The chaffinch agrees with every word. Devon is alive with April promise. I wish I could translate Bird-song.
Posted 04/16/2016 03:55 PM
Jane Eva Cooper:
Always a favourite here in Wimpole Street, London,. I can report that there is 'tiny leaf' and the chaffinch does sing nearby in Regent's Park. To my knowledge no swallows have been seen yet - too early - but blossoms, dewdrops, buttercups and hoary dew all rings true. I presume this was written when he was in Italy married to my late great neighbour Elizabeth.
Posted 04/16/2016 01:44 PM
Alarie:
I feel this way about April, too. This poem shows Browning's broad range, for one of my favorite poems even as a teen (or because I was a teen) was "My Last Duchess," which is dark and nasty.
Posted 04/16/2016 12:36 PM
Newf:
Beautiful! Wonderful to read again after many years.
Posted 04/16/2016 03:43 AM
peter kilby:
The blossom in the Cotswolds is just beginning to show here. Its being held back by the cold weather. Beautiful poem. .Peter Kilby
Posted 04/16/2016 03:24 AM
Ross Kightly:
Well, it's not quite May here in the West Riding of Yorkshire but in a fine nearby park the daffodils are hyper-Wordsworthian!
Posted 04/16/2016 02:14 AM