Lord, tonight I know why you trusted your
only son to a carpenter. Only a man with
an assembler's skill has the tools to both
entertain and protect. More like a banker,
every day I hope the mortgage I use
to shield the heads of my small children
is a thick enough thatch to keep them through
the growing years. Lord, lend me the hands
of Joseph as I lift the custom tightening tool
(not a screwdriver, more like a screw-stirrer)
and fasten the plastic coffee maker
to its pretend countertop. And Joseph,
tell me: is fostering imagination part of
raising a savior? Right now, ankle deep
in Styrofoam, I feel I could use some saving.
Lord, when later I take your name in vain
at my inability to stretch Tab B and I turn
to the last-minute ingenuity of my wife
with her wrist-dispenser of Scotch Tape,
bring us the understanding of Mary
who knew more than any before or since
that everything is for a reason. And Mary,
would you say we spend too much on gewgaws,
or will you see past to the hours we'll spend
with imaginary omelets served by a three-year-old
matriarch to her own worshipful bunch?
Lord, when I tiptoe past the infant upstairs,
the sister whose somnolent somersaults
will tolerate no tucking, recall in me
the stillness of a straw bed, set back in a barn
away from the unrestfulness of the city.
Lord, with the plate of cookies waiting elsewhere
in this house for your secular representative,
I offer these uncalloused hands, a hammer,
and a twice-used saw in joyous and hopeful
exchange for a bountiful Christmas, the sight
of your hand, a quick recovery of the dowel
I just dropped, and just a few minutes of sleep
before the noisy brightness of morning
once again retires the star of night.
Copyright 2009 by David Vincenti.
Used with the author's permission.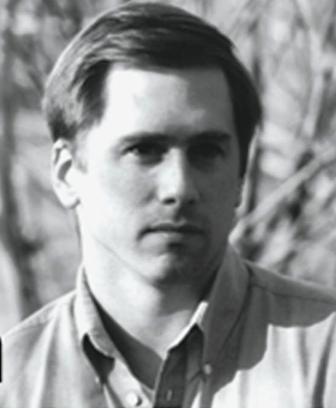 David Vincenti is a father, husband, poet, project manager, engineer, accordionist, and bowler who believes it is possible to root for the Mets without hating the Yankees.Through writing workshops and other presentations, David works to spread a love for reading and writing poetry with audiences from 8 to 80 years of age. Among his diverse poetic involvement is curating and co-hosting the Spoken Word Series of the DeBaun Center for the Performing Arts in Hoboken, NJ. David supports his poetry and family habits as a technologist and team leader in the medical device industry, where he has launched such products as latex-free tourniquets, protein-purifying ultracentrifuges, and diabetes management systems. A native New Yorker, David now lives in New Jersey. Learn more about him at www.davidvincenti.com.
MMMandzik:
Merry Christmas David! and to all, good night!
Posted 12/30/2014 01:41 PM
plgoodman:
Wonderful extended metaphor. Skillfully and beautifully done. Perfect for Christmas Eve. Takes me back...
Posted 12/23/2014 07:17 PM
barbsteff:
This poem rings true. Great connection between harried father and Joseph the carpenter.
Posted 12/23/2014 12:18 PM
transitions:
I smiled, nodded, agreed with David as I remembered a similar Christmas...so far away ~and suddenly, brought back again. Lovely poem, thank you. Judy
Posted 12/23/2014 10:57 AM
jhstone:
Wonderful poem!!
Posted 12/23/2014 10:38 AM
dotief@comcast.net:
I love it!
Posted 12/23/2014 08:04 AM
TheSilverOne:
Most enjoyable poem!
Posted 12/23/2014 07:51 AM
erinsnana:
I love this!
Posted 12/23/2014 07:14 AM
rksanders@charter.net:
p.s. My favorite part: And Joseph, tell me: is fostering imagination part of raising a savior?
Posted 12/23/2014 06:28 AM
rksanders@charter.net:
Wonderfully perfect, in so many ways. Kay
Posted 12/23/2014 06:23 AM
rhonasheridan:
I couldn't put it any better than Carl just has!
Posted 12/23/2014 01:42 AM
Carol Halligan:
You nailed it, David.
Posted 12/22/2014 11:45 PM