I've stayed awake to sing the midnight mass
and now I'm wide awake to watch the stars
come out. My santa years passed mighty fast,
it seems to me tonight with sleep still far
away--and what a waste that is, I think.
I could be tabbing A to notch AB,
or hanging tiny towels on tiny sinks,
or ratcheting a chain or gluing leaves
to train track trees, or at the very least
retrieving toys from where I'd hidden them
three months ago. Instead, the Pleiades
and I are keeping company with wind
and moon and all the timelessness of dark
and stars and my provisioned heart.
From Christmas in Bethlehem (FutureCycle Press, 2013).
Used with the author's permission.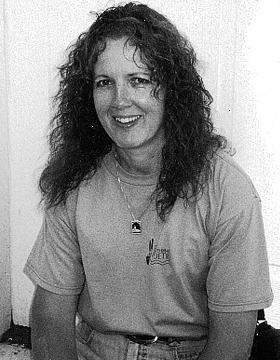 Dana Wildsmith is the author of five collections of poetry, one of which (One Good Hand) was a nominee for Southeastern Booksellers Association Poetry Book of the Year. Dana is a popular workshop teacher and has done residencies and fellowships as far away as Alaska. She lives on a century-old family farm outside Atlanta and, when not writing, is an ESL instructor for Lanier Technical College. Dana's poetry and essays--which frequently focus on her dogs, her family, and her life on the farm--have been featured in numerous journals, magazines, and anthologies, including the highly acclaimed Listen Here: Women Writing in Appalachia. Dana's most recent book is Christmas in Bethlehem. Learn more about her at http://www.danawildsmith.com/blog and www.danawildsmith.com.
dotief@comcast.net:
I love this!
Posted 12/24/2014 11:54 AM
Mary Ricketson:
Keeping company with pleiades and the is the best of harmony.
Posted 12/24/2014 08:52 AM
Sherry:
My favorite "timelessness of dark"
Posted 12/24/2014 08:30 AM
Larry Schug:
Any poem featuring the Pleiades Sisters rings my bell! the last four lines are a poem of their own. Merry Christmas.
Posted 12/24/2014 08:12 AM
bbatcher:
I am intrigued by Dana's poems, this one and "What I know about Shine;" not only their sublime treatment of the subject matter, but also her skill in putting her own twist on the Shakespearean sonnet form, with enough loose rhyming and enjambment to avoid the sing-song, and the placement of the volta, in both cases, smack in the middle of line 11.
Posted 12/24/2014 07:14 AM
transitions:
Sleep won't come so I join her 'and the Pleiades' in this inspired poem, so well written, so relateable ~ Judy
Posted 12/24/2014 02:56 AM
KevinArnold:
A strong core: I could be tabbing A to notch AB, or hanging tiny towels on tiny sinks, or ratcheting a chain or gluing leaves to train track trees, or at the very least retrieving toys from where I'd hidden them
Posted 12/23/2014 11:31 PM