I had butterflies for breakfast,
forsythia for lunch,
And birdsong now accompanies
the dinner that I munch.
From scrambled eggs to tuna,
most any mundane fare
becomes downright delicious
when served in spring's fresh air!

© by Jayne Jaudon Ferrer.
Used with permission.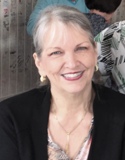 Jayne Jaudon Ferrer is the author of five books of poetry, a novel, and a nonfiction book about games. Host and editor of Your Daily Poem since its inception in 2009, she speaks frequently at churches, schools, and writing-related events and her work has appeared in hundreds of publications. When not writing or reading, Jayne enjoys music, old movies, gardening, hiking, and good conversation. A native Floridian, she has lived in Greenville, South Carolina, for the past 28 years. Learn more about her at www.jaynejaudonferrer.com.
Larry Schug:
Look at all the good things that happen when you pay attention--beauty, insight, poetry!
Posted 04/29/2016 05:48 PM
Mellie:
I like most all of the poems you've introduced, posted, briefly explained ;by today, I truly related personally to a fellow poet. This was my favorite read, by far, in this long time of receiving your daily email. Sincerely, Misty Ball
Posted 04/29/2016 02:14 PM
Barry:
Nice!!!
Posted 04/29/2016 06:37 AM
r1manchester:
very nicely done/well written!
Posted 04/29/2016 05:50 AM
phebe.davidson@gmail.com:
A superb celebratory take on things---
Posted 04/29/2016 05:24 AM