You are not a pretty thing.
Gangly, misshapen, with
twisted trunk and arms akimbo,
you have no inherent grace, no hidden mystery,
no subtle charm whatsoever.
Here, amid the glory of God's fauna,
your random tips poke the morning
like a mutant starfish wedged atop a gutless tree.
In this spring-breezed, sun-kissed clearing,
your branches flail like the arms of a toddler:
Hey! Look at me! Look at me!
Around you, stately firs and bobbling jonquils
stretch, embarrassed, toward the sky;
vines and ivy tendrils curl away.
Across the path, your elder pines stand rigid,
fresh lime needles fluttering chastely,
like the fans of a thousand geishas.
You are not one of them,
did not have some ecologically-minded mentor
plant a seedling version of yourself in
carefully choreographed reforestation.
No, you are rogue, an uninvited,
unexpected spawn of Mother Nature,
set out to stake your claim
in the name of serendipity
and survival of the fittest.

© by Jayne Jaudon Ferrer.
Used with the author's permission.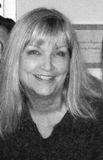 Jayne Jaudon Ferrer is the author of four books of poetry and a nonfiction book about games. She speaks frequently at chuches, schools, and writing-related events and her work has appeared in hundreds of publications. Jayne is the founder and editor of YourDailyPoem.com and enjoys reading, music, old movies, and good conversation. A native Floridian, Jayne has lived in Greenville, South Carolina, for more than 20 years. Learn more about her at www.jaynejaudonferrer.com.
Jancan:
This is an excellent, descriptive poem--great use of personification. Janice
Posted 04/29/2016 09:14 PM
jayne:
Thank you for all the nice words. Nature offers so much inspiration, doesn't? Breathtaking gifts, everywhere we look!
Posted 04/29/2016 08:20 PM
Larry Schug:
Look at all the good things that happen when you pay attention--beauty, insight, poetry!
Posted 04/29/2016 05:48 PM
Dorcas:
Thank you. It reminds me of my favorite v. "I am the vine, you are the branches...apart from me you can achieve nothing.
Posted 04/29/2016 04:43 PM
transitions:
To look is one thing, to see quite another, of course. You saw...Lovely poem. Judy
Posted 04/29/2016 03:01 PM
Mellie:
I like most all of the poems you've introduced, posted, briefly explained ;by today, I truly related personally to a fellow poet. This was my favorite read, by far, in this long time of receiving your daily email. Sincerely, Misty Ball
Posted 04/29/2016 02:14 PM
Michael:
Jayne Wonderful free verse treatment of this special "ornament" in your path.
Posted 04/29/2016 01:06 PM
Lori Levy:
Love the metaphors and images in this poem!
Posted 04/29/2016 12:34 PM
wendy morton:
Here's to all the trees, the surprises everywhere.
Posted 04/29/2016 12:29 PM
blueskies:
You are not one of them, did not have some ecologically-minded mentor plant a seedling version of yourself in carefully choreographed reforestation...Stunning visuals. Thanks for this great start @ TGIF-ville
Posted 04/29/2016 12:24 PM
barbsteff:
You are rogue, uninvited - from a human's point of view. Nature places plants randomly!
Posted 04/29/2016 11:58 AM
Jo:
Jayne, You've captured that uninvited, unexpected spawn--and memorialized it-- is a beautiful and thoughtful poem, about a tree, about a child...
Posted 04/29/2016 10:51 AM
Mary Lou Taylor:
So good. Trees, as abundant as they are, are difficult to write about. Thank you, Jayne.
Posted 04/29/2016 10:10 AM
ElizabethP:
I love this claim in the name of serindipity! Wonderful!
Posted 04/29/2016 09:18 AM
KevinArnold:
My new fave JJF poem. Brava!
Posted 04/29/2016 09:04 AM
cork:
What beautiful imagery!
Posted 04/29/2016 09:02 AM
plgoodman:
Amazing how so many times such anomalies are the most memorable...
Posted 04/29/2016 08:36 AM
rhonasheridan:
Mother Nature is full of surprises. Little nuts and leaves blossom into beautiful wonders. Lucky for us. A thoughtful poem. Thank you
Posted 04/29/2016 08:36 AM
Newf:
I can just see that tree. All those descriptive words. I just love it. Wish the tree were still there.
Posted 04/29/2016 07:45 AM
mimi:
you captured that little tree perfectly, Jayne!
Posted 04/29/2016 07:36 AM
Barry:
Nice!!!
Posted 04/29/2016 06:37 AM
paula:
So true. I hear "Look at me!" all the time, working with 3K kids. Cheers for all of us hanging in there.
Posted 04/29/2016 06:16 AM
r1manchester:
very nicely done/well written!
Posted 04/29/2016 05:50 AM
phebe.davidson@gmail.com:
A superb celebratory take on things---
Posted 04/29/2016 05:24 AM