I think
this was the music of my mother's youth.
She danced like a flapper, I suppose,
something it can be hard
to imagine one's mother doing,
but she showed me the Charleston
when I was in my teens.
We danced it the only way you can,
energetically,
mother and son,
between the sofa and the baby grand.
© by Richard Greene.
Used with the author's permission.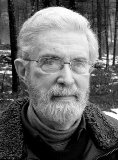 Richard Greene began writing poetry in the 8th grade, inspired by the opening lines of Longfellow's "Evangeline"—"This is the forest primeval. The murmuring pines and the hemlocks / Bearded in moss and in garments green, indistinct in the twilight"—which he was required to read in class. In college, after a classmate deemed Richard's rhyming poem "trite," he stopped writing until, a couple of years later, a class with Henry Rago, subsequently editor of Poetry magazine, inspired him to resume his efforts. But poetry fell by the wayside for almost forty years as a busy career in international development consumed his life. As retirement approached, however, Richard's dedication to poetry returned; he has now self-published a book (Explorations -Antrim House Books), and shares a "poem of the week" (get on the mailing list by requesting it at greeneplace@gmail.com). Learn more about Richard at www.greenepage.net.
rhonasheridan:
What a delight! Just loved it.
Posted 05/02/2016 02:37 PM
Lori Levy:
Beautiful image. Glad the college classmate didn't stop you from writing!
Posted 05/02/2016 11:27 AM
transitions:
Smiles ~
Posted 05/02/2016 10:49 AM
Richard Greene:
Larry Schug makes an astute observation. The "poem between the words" is where much of poetry lies. As the Roman critic Marus Servius Honoratus declared approximately 1600 years ago: "The art of poetry is not to say everything."
Posted 05/02/2016 09:27 AM
Kbc:
I can see this picture and the delight of both mother and son. Thanks for sharing these moments.
Posted 05/02/2016 08:39 AM
paradea:
I absolutely love this.
Posted 05/02/2016 08:16 AM
Larry Schug:
Top shelf! Gold medal! Blue Ribbon! The poem between the words as well as the words of the poem are touch me deeply.ly
Posted 05/02/2016 07:33 AM
Ross Kightly:
International development can stand the loss I'm sure, and the World of Poetry can always do with stuff this charming and sharply-observed. Brilliant! Thank you.
Posted 05/02/2016 02:49 AM