It was her birthday.
She was only five
the dawn we went out
to look at roses
in Grandma's garden
while everyone else
was sleeping.
She loved them all
every color
but stooped the way
little girls do
and pointed to
wings of a Monarch
on the ground
splayed by death
fresh with dew
beneath milkweed
Grandma planted
just last Spring
for Monarchs
to lay their eggs.
She asked if
it would fly away
and I said no.
Monarch mothers
I explained
lay their eggs
in milkweed
and then sleep.
That's why
she and I
must be careful
not to make a sound
as we tip-toe
over there to the roses
Grandma planted
beyond the milkweed
just last Spring
just for her.
© by DonalMahoney.
Used with the author's permission.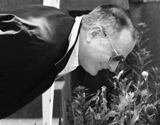 Donal Mahoney lives in St. Louis, Missouri. A native of Chicago, he spent the early '70s actively submitting poems to print journals and enjoyed some success. He then took a 35-year hiatus from poetry to work as an editor of prose at such lofty establishments as the Chicago Sun-Times, Loyola University Press, and Washington University in St. Louis. Upon retirement, Donal took to his recliner, and was perfectly happy reading and listening to Gregorian chant all day. After three years, however, his wife bought Donal a computer and showed him where the boxes of still-unpublished poems had been stored in the basement for many years. Thus Donal began actively submitting again in June 2008. Some of his work since then can be found here; more can be seen at http://booksonblog12.blogspot.com/.
transitions:
Oh my...lovely...
Posted 05/03/2016 11:50 AM
Lori Levy:
Beautifully expressed!
Posted 05/03/2016 11:08 AM
Dorcas:
Such a fine explanation of life. I love it.
Posted 05/03/2016 10:05 AM
Kbc:
I echo wordlover's comment. I like the poem and more, the bio. the bio is a poem in itself. Looking forward to seeing it in the future.
Posted 05/03/2016 08:57 AM
cork:
Slainte!
Posted 05/03/2016 08:30 AM
wordlover:
I liked the poem, and even more, the bio!
Posted 05/03/2016 08:21 AM
Gilbert Allen:
The poem's final lines have a lot of emotional resonance.
Posted 05/03/2016 07:42 AM
Larry Schug:
The Monarch being dead and how that is dealt with is very thought-provoking. This poem tells me that even death can be beautiful, is just a natural event. The line breaks are "interesting". Good work.
Posted 05/03/2016 07:41 AM
Sarah Russell:
I could see the garden, the little girl, the butterfly. Well done!
Posted 05/03/2016 06:30 AM
phebe.davidson@gmail.com:
Lovely and evocative, hard to turn away from!
Posted 05/03/2016 06:14 AM