Life is so much plodding,
but today there's a baby on me,
three o'clock sun on our faces
as we lounge on the deck—
my backside on the bench
with legs stretched, feet up
on a yellow chair, the baby
the length of my bare thighs.

The baby moves mild, coos
content, fuzzy warm against my legs.
I stroke his small chest
as a breeze stirs the maple
overhead and it's all blue,
green, and peach.
The baby finds the chair
with his feet and he bends
at the knees, pushes, returns
and holds, squat like a frog.
The feel and the sight of him—
tilting his head, soaking up
vitamins—is pure summer.

Life is so much plodding,
but today there's a baby on me,
sun on our faces,
breeze through the maple.

© by Kristen Elde.
Used with the author's permission.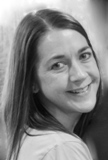 Kristen Elde found her way to poetry about eight years ago, lured by a dream she had while traveling in Iceland, her "magic place" that has since yielded a great many poems. In recent years her work has been published in Carve Magazine, via Architrave Press, and online at The Nervous Breakdown, and she maintains a poetry blog at http://difficult-loves.blogspot.com. Before poetry took hold, Kristen wrote articles for magazines including BUST, The Writer, Runner's World, and Health. She lives with her husband and toddler son in western Massachusetts.
erinsnana:
I loved this poem!
Posted 05/04/2016 03:00 PM
Sarah Russell:
Smiling, recalling my own "baby on me" times over 40 years ago. Thank you!
Posted 05/04/2016 01:06 PM
ElizabethP:
Exquisite poem! Thanks!
Posted 05/04/2016 12:06 PM
Lori Levy:
Evokes such a warm feeling!
Posted 05/04/2016 11:22 AM
Michael:
Thank you Kristen. Your poem represents well what YDP accomplishes--giving us poems we can understand and which relate to common things of life--things not so common in the hands of such a deft poet.
Posted 05/04/2016 10:27 AM
mjs.ontheroad@gmail.com:
So sweet, so evocative! --love this one!
Posted 05/04/2016 10:16 AM
lincolnhartford:
I appreciate the thoughtful structure of the poem that takes us from "Life is so much plodding" to the baby on you. And the summary transparent verse for us to savor.
Posted 05/04/2016 08:45 AM
marilynfleming:
Very lovely poem Kristen
Posted 05/04/2016 07:48 AM
fuddygail:
oh, yum! That was delicious!
Posted 05/04/2016 02:35 AM