It's 2 a.m. at The Star Diner.
The waitress pours coffee
for the cab driver
at the counter on his break.
She banters with her customers
about politics and local gossip.
She's a new widow who never
had to work before,
with a few years left to retirement.
Her family has scattered:
A daughter moved across country,
her son joined the Marines.
The waitress raises a teenage son
alone and worries
that she's lost control.
She used to shop at elegant stores;
now she hurries home to wash
her uniform for next night's shift.
She used to buy filet mignon
from Sam the butcher;
now she serves franks and beans.
Customers have no idea
that their pleasant waitress,
who trades quips with them nightly,
is struggling to get by.
She is good at hiding her fear.
When she gets home,
she'll sit in the recliner,
rest her legs, and count out
the sparse tips from her pockets.

From Why I Miss New Jersey (CreateSpace, 2013).
Used with the author's permission.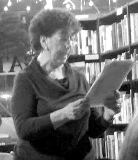 Barbara Eknoian lives in La Mirada, California. From her store of vivid memories, she writes a lot about her growing-up years. Originally from New Jersey, she was forever homesick until she joined Donna Hilbert's poetry workshop in Long Beach. Barbara was the first recipient of the Jane Buel Bradley Chapbook Award for her collection, Jerkumstances (Pearl Editions).
jtmilford:
A powerful poem of truth.
Posted 05/05/2016 08:32 PM
erinsnana:
love this!
Posted 05/05/2016 04:22 PM
Mary Lou Taylor:
Yes, the word powerful comes to mind. Touches the heart.
Posted 05/05/2016 02:03 PM
Lori Levy:
Powerful poem.
Posted 05/05/2016 01:23 PM
transitions:
Like reading a small book...how I felt for this woman! We all hide sad secrets, well done.
Posted 05/05/2016 12:01 PM
peninsulapoet:
Never a false note in Barbara's work. Love her poems.
Posted 05/05/2016 10:59 AM
ElizabethP:
This poem is excellent. Thanks!
Posted 05/05/2016 09:25 AM
Jancan:
This poem describes so movingly the fact that we never know what's in others' minds as they smile and laugh. Janice
Posted 05/05/2016 08:18 AM
Larry Schug:
Makes me think of my mother and puts a tear in my eye. This is an ode to all the hard-workers, under-paid, living check to check, all of us just human beings. Thank you, Barbara. Nicely done.
Posted 05/05/2016 07:50 AM
Newf:
Wonderful poem, but so sad. Not that we shoul need a reason, but this is a good reason to treat everyone with kindness. I like the previous comments too. Thank you Jayne and Barbara.
Posted 05/05/2016 06:49 AM
JanetruthMartin:
I agree with the previous comment, and how we never know what we are one unexpected-turn-of-event away from!
Posted 05/05/2016 05:44 AM
Ross Kightly:
The vividness of the empathy here is totally convincing: every person's life against which we rub however lightly is a fragile thing is it not? Thank you again.
Posted 05/05/2016 03:36 AM