for Ravi, age nearly year and a half
I see you! we speak and wave
play peek-a-boo with upside-down plastic
yellow-gold dinner plate uneaten
stuffing forms sticky spirals in downy
light brown hair Let's take inventory
mimic each other yes,
lift strands of hair pat nose
bare lips to show teeth locate
ears imagine, one on each side of our heads!
I blow him kisses and he
blows kisses back from the palm
of chubby wide-open fingers
Oh, I say, I hug you, luscious baby,
my arms hug pretend he's inside them
and he wraps arms around himself
virtual hug in turn and Oh,
Oh, I kiss you, Ravi, and he
leans forward to kiss my face
on the tablet!
He's never done
that before! says Daddy,
my grandson.
And I rise brimful
of warm milky-way-stars radiant
meteor-bubbles-swirling in space
underwater gemstone grottoes
aquamarine blue cobalt sun-loving coral
undulating seagrasses to glow
throughout and beyond my life
towards a next world
your great-grandpa and I
carrying Ravi's computer screen kiss
infinities in the palm of my hand
through a color-spangled cosmos.
© by Charlotte Mandel.
Used with the author's permission.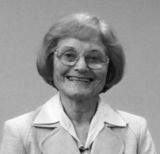 Charlotte Mandel's latest book of poetry, just released from David Robert Books, is titled Through a Garden Gate, poems inspired by the stunning garden settings created and photographed in color by Vincent Covello. Her awards include winner of the 2012 New Jersey Poets Prize and two fellowships in poetry from New Jersey State Council on the Arts. As a suburban wife and mother, Charlotte wrote no poetry until her true poetic self came to the fore in midlife. That self has now accomplished the publication of nine books of poetry, including two poem-novellas of feminist biblical revision; articles of literary scholarship, most notably essays on the role of cinema in the life and work of poet H.D. (Hilda Doolittle); being publisher/editor of Saturday's Women, the Eileen W. Barnes Award Anthology; teaching—she recently retired after several years teaching poetry writing at Barnard College Center for Research on Women; and earning nearly a dozen fellowships and residencies. Learn more about Charlotte at www.charlottemandel.com.
paula:
A great poem!
Posted 05/08/2016 07:06 AM
Lori Levy:
Totally identify with this!
Posted 05/06/2016 12:14 PM
transitions:
Agree with Jo...I loved it ~
Posted 05/06/2016 11:38 AM
Jo:
What a beautiful poem. Thank you for sharing it with us today. Warms my insides.
Posted 05/06/2016 10:38 AM
phebe.davidson@gmail.com:
Best Mother's Day poem I've seen!
Posted 05/06/2016 06:50 AM
rhonasheridan:
How lovely. Really, really lovely
Posted 05/06/2016 05:40 AM
Newf:
This is so beautifully written. So descriptive. Great grandsons are just wonderful.
Posted 05/06/2016 05:33 AM
Katrina:
This is the most beautiful poem I have read in a long time.
Posted 05/06/2016 05:01 AM