The swaybacked work horse
of a barn is home to small rodents
and swallows,
parts of the old windmill
move in the breeze.
Most windows in the tall house
are gone and the screen door
sags on a hinge.
Fields are hip tall with thistle,
evergreens taking root
haphazardly.
Part of the rope swing still dangles
from the willow.
Everything settling.
Lilacs bloom every year
in case someone comes back.
 

This poem first appeared in the Ariel Anthology 2015.
Used here with the author's permission.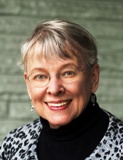 Peggy Trojan, retired from teaching English, lives happily in the north woods of Wisconsin. She gardens, entertains, and quilts when she isn't writing about her family, surroundings, and views of the world. Author of two chapbooks and a full collection, she is a member of the Wisconsin Fellowship of Poets.
Mary Lou Taylor:
The last line and the one before are so tellingly done.
Posted 05/13/2016 01:12 AM
Lori Levy:
Beautifully visual!
Posted 05/12/2016 03:12 PM
ElizabethP:
Absolutely wonderful...
Posted 05/12/2016 02:37 PM
transitions:
I've seen many barns like this here in WI ~ loved the poem, great two finishing lines.
Posted 05/12/2016 10:54 AM
Michael:
Thank you Peggy-- I especially like your use of detail.
Posted 05/12/2016 10:37 AM
erinsnana:
I could see this farm after reading your poem!
Posted 05/12/2016 10:17 AM
Jo:
And the lilacs keep blooming and someone continues to see them as we did today in your poem. Love this poem, Peggy.
Posted 05/12/2016 10:07 AM
Caro70:
Perfect landing with those last two lines, Peggy! Well done!
Posted 05/12/2016 09:27 AM
cork:
Thoughtful lilacs!
Posted 05/12/2016 08:28 AM
mimi:
poignant and true, Peggy, lovely poem... Sharon Auberle
Posted 05/12/2016 07:56 AM
njc:
A lovely blending of past, present and future--written with a paintbrush!
Posted 05/12/2016 07:55 AM
Janet Leahy:
So wonderful that the lilacs remember to bloom each spring, gives us hope for what comes next. Lovely poem, great details, thanks Peggy.
Posted 05/12/2016 07:37 AM
paradea:
I love this poem...and lonely old forgotten farmhouses! Great job!
Posted 05/12/2016 07:36 AM
Larry Schug:
Like studying a painting, this poem. I have a fondness for old animals, so liked the image of the sway-backed barn and you are right on with the lilac bushes, such a fitting end for this poem.
Posted 05/12/2016 07:33 AM
Sarah Russell:
I was there on the country road with you, Peggy, wondering who had lived there. Well done!
Posted 05/12/2016 07:11 AM