When I am ash, as is my wish,
take a stone out to the field for me
and leave it near the meadow wall
where it won't jam machinery.

Nothing cut or polished. Something
tumbled down the stream and smoothed
by sand will do, the sort of stone
that's been there all along. It's just

that in the field tonight, I stopped
and stood among the cedars
and the hedgerow's coils and twists—
the heart-shaped lump of a wasp nest

suspended from a branch above
my own dark shape— and the moon's
unclouded eye fell on us all so equally,
it seemed as good a place as any I could be.


From Tips for Domestic Travel (Black Lawrence Press, 2009).
Used here with the author's permission.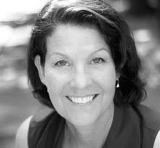 Hayden Saunier is a poet and an actress whose roles range from Gertrude in Hamlet, to a holographic Jinni at the Trump Taj Mahal, to the voice of a broken-down stove for Ikea. Underemployed for most of her career, she began writing offstage, backstage and, mostly, at home while raising her children. Hayden lives on a farm in Pennsylvania.
pwax:
Lovely!
Posted 05/14/2016 11:08 AM
Jo:
Stunning poem. It rings true. Love it.
Posted 05/13/2016 07:16 PM
JanetruthMartin:
beautiful! welcome to YDP and hopefully this is just the beginning of your work here! Ironically, I was reading Frost earlier today:)
Posted 05/13/2016 05:08 PM
Lori Levy:
This poem has a very comforting feel to it despite the subject. I really liked it!
Posted 05/13/2016 12:41 PM
transitions:
Yes...and I loved it ~
Posted 05/13/2016 11:44 AM
Jean Colonomos-1:
Jean Such a soothing poem.
Posted 05/13/2016 10:45 AM
paradea:
Loved it! I also love Robert Frost.
Posted 05/13/2016 09:20 AM
Dorcas:
I shall lie whole with the five other members of my immediate family, and that is always how I shall love and think of them. When I am gone, we will all be together whole forever.
Posted 05/13/2016 08:41 AM
Michael:
Love the gentle feeling of place achieved by Last Will--also like the way you avoid forcing rhyme. The rhymes fall naturally in keeping with the poem's overall interest.--This one's headed for my journal.
Posted 05/13/2016 08:29 AM
Gilbert Allen:
I admire this poem's careful observation and emotional honesty.
Posted 05/13/2016 06:48 AM
paula:
Love your poem!
Posted 05/13/2016 06:07 AM
Newf:
That is good! Wonderful sentiment. Feel like saying "me too"
Posted 05/13/2016 06:01 AM
vortex:
beautiful
Posted 05/13/2016 06:00 AM
rhonasheridan:
Loved it.
Posted 05/13/2016 05:18 AM
r1manchester:
very nice!
Posted 05/13/2016 05:00 AM