What's the use o' folks a-frownin'
When the way's a little rough?
Frowns lay out the road fur smilin'
You'll be wrinkled soon enough.
What's the use?

What's the use o' folks a-sighin'?
It's an awful waste o' breath,
An' a body can't stand wastin'
What he needs so bad in death.
What's the use?

What's the use o' even weepin'?
Might as well go long an' smile.
Life, our longest, strongest arrow,
Only lasts a little while.
What's the use?                                                                
This poem is in the public domain.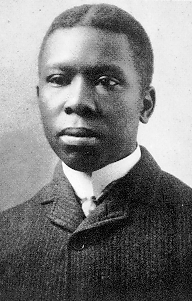 Paul Laurence Dunbar (1872-1906) was from Ohio. He wrote his first poem at the age of six, was editor of his high school newspaper, and published his first book at twenty. His writing attracted attention from the very beginning, and Paul became well-known in both America and around the world. Like James Whitcomb Riley, who was a fan of his young contemporary's work, Paul wrote many of his poems in dialect. Besides a dozen books of poetry, Paul wrote four short story collections, five novels, a play, and the first  Broadway musical ever written and performed by African-Americans. A tremendously successful poet whose work was being published in all the major literary publications of his day, Paul's life was cut tragically short by tuberculosis.
Dorcas:
Tremendously meditative closure.
Posted 05/23/2016 11:04 PM
rhonasheridan:
Loved it.
Posted 05/23/2016 02:24 PM
Jancan:
What a great poem to share with us today! Thank you. Dunbar--What a talent! Janice
Posted 05/23/2016 11:34 AM
ElizabethP:
Paul Dunbar on a Monday morning. Life is good! Thanks for sharing!
Posted 05/23/2016 09:10 AM
blueskies:
Delighted by this poem. Shades of wisdom!
Posted 05/23/2016 06:09 AM
Newf:
Wonderful!
Posted 05/23/2016 04:25 AM