There is a stillness here,
a cathedral ambience.
Song birds silently flit by,
A yellow butterfly flutters
aimlessly about and
two Painted Ladies twirl as one.
Hummingbirds pause briefly,
sipping at the colored feeder, and  
a raven tops the eucalyptus tree,
then swoops northward
toward the University,
to take part, perhaps,
in a playhouse Poe recital.

Plant life, both deeply rooted,
and pampered into pots,
speaks quietly to me.
Tall trees ache to dance in the wind.
A Hibiscus shrub flaunts
its crimson blossom
and a Ficus tree, newly shorn,
glows golden in the noonday sun.
Were you to ask,
"Which way to heaven?"
I would reply:
"We are there."
© by Edward Hujsak.
Used with the author's permission.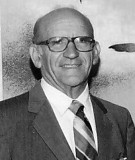 Edward Hujsak (1925 - 2018) was born in New Hampshire to a Polish farming family. A chemical engineering graduate of the University of New Hampshire, Ed worked on propulsion systems at General Dynamics during development of the Atlas and Centaur rockets. He was propulsion engineer on John Glenn's famous orbital flight and served as chief of preliminary design at General Dynamics Astronautics Division for ten years, accumulating more than a dozen patents in the aerospace field. In addition to his numerous engineering achievements, Ed was a writer, artist, sculptor, and builder of furniture and musical instruments. In his spare time, Ed made more than 2000 wooden birds, dogs, and race cars for the San Diego Fine Woodworkers Association, which distributes them to sick and needy children.
rhonasheridan:
A lovely poem.it flows beautifully. Full of music.
Posted 06/03/2016 08:33 AM
transitions:
Beautiful...love spring and summer
Posted 06/02/2016 08:42 PM
ElizabethP:
What a wonderful piece! Thank you for sharing it and the lovely piece of heaven described therein.
Posted 06/02/2016 06:58 PM
Jo:
Peaceful and calming to read this morning.Thank you, Ed.
Posted 06/02/2016 08:42 AM
carel:
Beautiful and similar to feelings of mine, today, on this gorgeous June day in Wisconsin.
Posted 06/02/2016 08:28 AM
paradea:
A fine poem that puts you right there...in Heaven!!
Posted 06/02/2016 08:15 AM
blueskies:
O, Yes....We are there! A delight to awaken to a new day embraced by this poem.Thank you, Sir Edward. Smiles.
Posted 06/02/2016 08:12 AM
TheSilverOne:
Peaceful and lovely
Posted 06/02/2016 08:09 AM
vortex:
Gorgeous!
Posted 06/02/2016 06:12 AM
Newf:
Heaven!
Posted 06/02/2016 05:56 AM