on a side street burrowed deep
off touristed San Marco, dusty relics
beckon in a shop no larger
than a footprint. I join the urbane owner,
a musician -- hair like Mozart, an artist
in a paint-daubed smock, discussing
Nietzsche, Modigliani, the cafes
in Genoa and Istanbul.  We toast
with sangiovese in styrofoam.
Cento di questi giorni!
a wish for a hundred of these days.
This poem first appeared in Poppy Road Review.
Used here with the author's permission.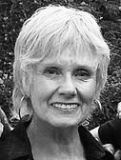 Sarah Russell lives in State College, Pennsylvania with a patient husband and a curly dog named Smudge. She co-edits Pastiche, a local literary magazine, and her poetry has appeared in dozens of journals and anthologies. Sarah humiliates her six grandchildren by knitting them sweaters for their birthdays, and the spring wreath on her door is home to a family of finches who return every year. Learn more about her at www.sarahrussellpoetry.com.
Sarah Russell:
Thanks so much, everyone. And yes, Rhona, magic things like chandeliers in the bathroom really do happen in Venice! One of my favorite cities.
Posted 06/03/2016 09:15 PM
Lori Levy:
Love the atmosphere this poem creates.
Posted 06/03/2016 12:28 PM
Dorcas:
An intellectual and artistic thought.
Posted 06/03/2016 10:08 AM
ElizabethP:
Lovely picture. :-)
Posted 06/03/2016 09:57 AM
rhonasheridan:
We had a chandelier in our bath-room! Thank for bringing back old memories. Delightful poem
Posted 06/03/2016 04:10 AM