My son barred me from the empathy party
his fifth grade classroom hosted. In our
evolving dance there are
so many events I'm not invited to, moments
I'm too intimate to share.

Later, he tells me the snacks sucked,
crackers and carrot sticks, and
there was too much applause and why
did the visiting parents get to eat before the kids,
who after all did all the work?

I try to explain about guests and hosts, care
and respect but he will have none of it.
His future parties will be free for alls, he promises,
everyone digging in, no deference paid
to custom, age, grace nor gratitude.

So I switch tracks. What were the empathy stories your class shared?
Someone didn't kill a spider by their bed.
Someone and her brother named the motherless
rabbit kits in their back yard. Someone
let someone else score a soccer goal.

And you, what was your story?

There was a kid being mean to me, so I
called him a Baloney, and when he told me
that hurt his feelings, I stopped.




From We are traveling through dark at tremendous speeds (Lit Fest Press, 2016).
Used with the author's permission.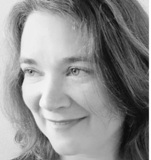 Sarah Sadie helps people connect to their creativity and to each other. Her chapbook, Do-It-Yourself Paper Airplanes, was published by Five Oaks Press in 2015 and a full-length collection, We Are Traveling Through Dark at Tremendous Speeds, is just out from Lit Fest Press. Sarah teaches at the Loft and the Iowa Summer Writing Festival, works with poets one on one, and hosts occasional retreats for writers and other creative types. Combining interests in embodied spirituality, creative endarkenment, the wisdom of the body and the power of art, she seeks out makers, dreamers, and anyone interested in a good cup of coffee and conversation. Learn more about Sarah and her work at www.cowfeather.org.
Jo:
Hi Sarah Sadie, You are a terrific parent. I so enjoyed this poem and will enjoy your book as well. The "evolving dance"--we know it well. Thank you.
Posted 06/04/2016 08:05 PM
kbc:
Great surprise ending. You're doing something right with your child. We're long distance grandparents but by next year we'll all be in the same city. It's for the moments like those above we're moving!
Posted 06/04/2016 08:02 AM
Jancan:
As one going through that "evolving dance" with my grandson, I can certainly relate to your poem! Good job. Janice
Posted 06/04/2016 07:55 AM
blueskies:
The ending was so delightfully UNEXPECTED!And profound in wisdom-telling-cadence. Bravo, Sarah! Many thanks.
Posted 06/04/2016 07:39 AM
paula:
Great poem. By fits and starts we grow into our humanity. Thanks, Sarah.
Posted 06/04/2016 07:26 AM
Charly:
When and if he ever allows you in be prepRed to be mightily surprised.
Posted 06/04/2016 07:05 AM
Newf:
Beautiful poem, but why was she excluded? Not much empathy there.
Posted 06/04/2016 06:22 AM
jeeger:
And you have touched one of those invisible chords!
Posted 06/04/2016 05:39 AM