purple petunias
nod siesta sombreros
in afternoon sun
as
blue morning glories
ignoring damp spider webs
scale rustic ladder
meanwhile
three white butterflies
flitter through flower gardens
kissing the colors
This poem first appeared in the Coulee Region Women's Magazine.
Used here with the author's permission.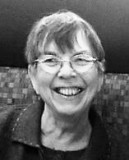 Phyllis Beckman begins her days with a candle, coffee, and Your Daily Poem. A lover of trees, she rues the loss of three ash trees from her Onalaska, Wisconsin corner lot to the emerald ash borer currently sweeping the area and is anticipating welcoming a replacement this summer.  Phyllis says the "Driftless Area" is a beautiful setting for writing poetry and she credits the Wisconsin Fellowship of Poets and Women Writers Ink for keeping her on task.

JanetruthMartin:
what they said! yes.
Posted 06/06/2016 01:02 PM
rhonasheridan:
Lovely poem. I can see it all.
Posted 06/06/2016 05:34 AM
cork:
Siesta sombreros make me sleepy.
Posted 06/05/2016 03:46 PM
Lori Levy:
Beautiful images.
Posted 06/05/2016 02:45 PM
ElizabethP:
Wonderful!
Posted 06/05/2016 02:42 PM
transitions:
Three haiku live in this lovely poem. Beautiful, lyrical images. Loved it ~ Judy W.
Posted 06/05/2016 01:50 PM
Jean Colonomos-1:
Jean Colonomos I love the images on this poem. I live the same landscape.
Posted 06/05/2016 11:36 AM
Janet Leahy:
Lovely title for your poem and i can see the morning glories, as they "scale rustic ladder". They are my favorite flower, I want to come to this lawn party. Thanks Phyllis.
Posted 06/05/2016 09:24 AM
blueskies:
...Three white butterflies~kissing the colors!!! O, Yes. A good way to begin a new day. Shining poem.Thanks, Phyllis.
Posted 06/05/2016 07:23 AM
vscholtz:
Hi Phyllis - How lovely to see your vivid poetry on this site. I remember meeting you at WFOP this spring. Keep on writing! Ginny
Posted 06/05/2016 05:57 AM
Newf:
Should have said coffee.
Posted 06/05/2016 03:26 AM
Newf:
I'm up having a very early this poem is so peaceful. And yes, Belinda, Beautiful says it all.
Posted 06/05/2016 03:26 AM
Belinda Veldman:
Beautiful!
Posted 06/05/2016 02:55 AM