Keep your nose in the bushes
let fingers fly, reach through bramble
tickle berries into your palm
check under leaves for stragglers
or the straw-boss will send you back
to glean like Ruth in the Bible.

Do not covet your neighbor's row,
every berry taken will raise a white flag
let them know that you stole
their ruby coats.

When it's hot, berries sweat and wilt
in their baskets, when it rains
you only need half as many.
Bring a container of berries
top up your flat, just enough to tip the scale
you get paid for 15 pounds not a berry more.
Punch your card.

Pick over 170 pounds a day
earn a cart with wheels
rather than stands knocked together
with 2x4s, keep your eyes
down when weighing in
never brag, adults don't like it
when you out-pick them.

Sing every TV jingle you know.
Laugh every time you hear Warner's Mother yell
Warner, start picking!
And dream, dream of walking down Fraser Street
with paper bags bursting with real jeans
crisp binders and a sharp rainbow of crayons.
© by Karen Klassen.
Used with the author's permission.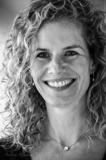 Karen Klassen was raised in Vancouver, BC by her Mennonite immigrant parents. Much of her writing has been inspired by her childhood and upbringing. Her work can be found in various journals and has also been read on CBC radio. Karen loves "beachy" holidays, puttering in the garden, and piping hot lattes. She currently lives in Kamloops, British Columbia with her husband and three children.
BMc:
...the straw-boss will send you back to glean like Ruth in the Bible. Love this line. Congrats on a fine poem friend!
Posted 07/28/2016 12:31 PM
loisflmom:
My sister and I only picked wild blueberries, and our reward was our Nonny's delicious pie!
Posted 06/06/2016 11:52 AM
barbandpeter@comcast.net:
I too picked berries on LuLu Island now Richmond, I show my age. Love your inviting description. Took me back 55 yrs.
Posted 06/06/2016 11:46 AM
ElizabethP:
Love it! Wonderful poem and welcome!
Posted 06/06/2016 10:52 AM
Lori Levy:
Feel like I'm out there picking berries. Great last line.
Posted 06/06/2016 10:28 AM
kbc:
You take the reader right along with you down the row, anticipating the end, and dreaming of the reward! I, too, like your line breaks. They help the poem move along smoothly. Ah, the BC wines. Made me think of those, too, and our two ventures of Penticton area wines. thanks
Posted 06/06/2016 09:52 AM
Michael:
Lovely Karen I'm a berry person-- blue, straw, rasp, or black. I always ate them on the way home, tho. Really nicely done. Thank you
Posted 06/06/2016 08:27 AM
cork:
Lovely line breaks!
Posted 06/06/2016 08:01 AM
JanetruthMartin:
In Ontario we wait eagerly for BC's blueberries. I have Mennonite roots too:) this poem was a real treat! thank-you.
Posted 06/06/2016 07:59 AM
Marilyn L Taylor:
Very nice!
Posted 06/06/2016 07:46 AM
blueskies:
...adults don't like it when you out-pick them. A clear & charming child's voice combined with vivid imagery.Thanks,Karen.
Posted 06/06/2016 06:38 AM