Do you wish the world were better?
Let me tell you what to do:
Set a watch upon your actions,
Keep them always straight and true;
Rid your mind of selfish motives;
Let your thoughts be clean and high.
You can make a little Eden
Of the sphere you occupy.

Do you wish the world were wiser?
Well, suppose you make a start,
By accumulating wisdom
In the scrapbook of your heart:
Do not waste one page on folly;
Live to learn, and learn to live.
If you want to give men knowledge
You must get it, ere you give.

Do you wish the world were happy?
Then remember day by day
Just to scatter seeds of kindness
As you pass along the way;
For the pleasures of the many
May be ofttimes traced to one,
As the hand that plants an acorn
Shelters armies from the sun.
This poem is in the public domain.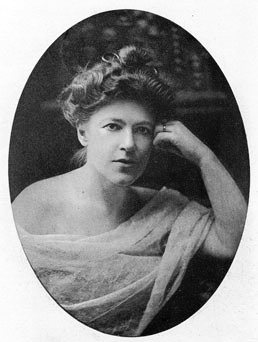 Ella Wheeler Wilcox (1850-1919) was a popular and prolific poet. Published and lauded before she even graduated from high school, Ella preferred to write happy, upbeat poetry and was much beloved for it. More than a dozen of her poems are included in the book, Best Loved Poems of the American People (Doubleday, 2008). The familiar saying, "Laugh and the world laughs with you, weep, and you weep alone. . ." comes from her best-known poem, "Solitude." A morally strong and spiritual person, Ella believed that her purpose on earth was to practice kindness and service. Read more about her here.
rhonasheridan:
A wonderful poem
Posted 06/09/2016 01:33 AM
wordlover:
I've always liked Wilcox. We could use a little more sweetness and positivity these days. You rock, Jayne, for choosing her!
Posted 06/07/2016 01:15 PM
ElizabethP:
wonderful!
Posted 06/07/2016 12:17 PM
JanetruthMartin:
always love this lady's poetry.This is a new one for me as well. I'm a big fan of meter and rhyme!
Posted 06/07/2016 12:04 PM
KevinArnold:
I'm a great Ella Wheeler Wilcox fan and had somehow missed this one. Thanks.
Posted 06/07/2016 09:27 AM
Jancan:
I absolutely love this perfect poem! I can't comprehend why so many people nowadays sneer at rhymed, metered poetry. Janice
Posted 06/07/2016 09:09 AM
Newf:
Great poetic pep talk. Do unto others etc.
Posted 06/07/2016 07:37 AM
paradea:
A good one to memorize and then recite!! Love the rhythm and thoughts of this poem.
Posted 06/07/2016 07:25 AM
blueskies:
...to scatter seeds of kindness. Ella & The Dalai Lama have much in common. Good wake-up words for our world! Blessings unto Ella.
Posted 06/07/2016 05:59 AM
Jean :D:
Great poem, it should be required 'learning' for every one, for teaching the "pleasures of the many".
Posted 06/07/2016 03:58 AM