Winter bares the creek line, the skeletons of fallen trees.
Summer hides it all with green.
Don't forge ahead, trying to take in everything.
Stroll sometimes.
Level ground can fall away unexpectedly.
Wear good shoes, layer clothes. Take enough to drink.
Have tissue with you for tears allowed in thinking.
Carry a stick. Use it for balance. Twirl it to look less
menacing, but hold it like a Jedi on mean-dog streets.
Don't look up to gauge a distant crest.
Zig zag. It's a longer walk, but easier success.
Better yet, keep your eye on just the ground
between each step. The path will flatten out.
You can even talk or sing, and that hill will climb itself.
© by Patricia Killian Deaton.
Used with the author's permission.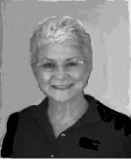 Patricia Killian Deaton lives in the historic foothills town of Valdese, NC. She writes poetry, short stories and some non-fiction, and has published in various journals. Walking is a favorite past-time, especially with her sweet, three-year-old great-granddaughter, Maria.
transitions:
Interesting, arresting poem, really like.
Posted 06/09/2016 06:56 PM
rhonasheridan:
roscoll - not Roscoe! Sorry .
Posted 06/09/2016 01:42 AM
rhonasheridan:
Roscoe puts it so well. A lovely poem
Posted 06/09/2016 01:38 AM
roscol:
What a beautiful extended metaphor showing us how much we can from physical journeying about the journey of life. Thank you!
Posted 06/08/2016 05:02 PM
jtmilford:
Neat poem great images. Made me wish we had hills.
Posted 06/08/2016 04:13 PM
ElizabethP:
What wonderful images and sage advice. I really love this poem. Thank you for sharing it!
Posted 06/08/2016 09:28 AM
paradea:
These comments are so gratifying! Thanks for all. To 'rl manchester', I've found lots of things, walking--some that I went back later and picked up in my car.
Posted 06/08/2016 09:22 AM
Michael:
Really like your walking poem, Patricia. Walking is one of my favorite things. This one goes in my journal.
Posted 06/08/2016 08:54 AM
KevinArnold:
love the line :Have tissue with you for tears allowed in thinking.
Posted 06/08/2016 08:43 AM
blueskies:
Keen insight into the gift(s) of walking. Smiles at > ...hold it like a Jedi on mean-dog streets. Thanks, Patricia!
Posted 06/08/2016 07:03 AM
Newf:
Really enjoyed this one. Well written and such good advice!
Posted 06/08/2016 07:01 AM
r1manchester:
Patricia.... don't forget - carry a bag to pick up trash..."roadside shopping", and I practice my dance steps.
Posted 06/08/2016 05:18 AM