If I hear†
the great†thwap†of wings
as Death swoops down, claws extended,
will I run like a little mouse,
frantic from spot to spot,
vainly seek escape?

Or will I
pause, pull in one more sweet breath,
stretch myself up to watch the fireflies
in their binary dance
become the stars
at last?
†
This poem was awarded an Honorable Mention at the 38th annual Jo-Anne Hirshfield Memorial Poetry Awards.
Used here with the authorís permission.
†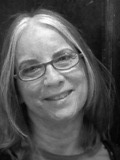 Gay Guard-Chamberlin is an interdisciplinary artist/writer who lives in Chicago and is married to an accomplished musician/poet. She mourns the absence of fireflies in the city, but is grateful to be near magnificent Lake Michigan. Currently, Gay is interested in yoga (practicing it and writing about it), creating collage and assemblage (3D collage) pieces, and cooking. She believes it may be possible someday to combine all of these. †
†
†
matthewthomasphillips:
awesome
Posted 06/11/2016 02:32 PM
Lori Levy:
Beautiful!
Posted 06/10/2016 09:39 PM
paradea:
I like this!
Posted 06/10/2016 02:11 PM
transitions:
Beautifully done. I would love to exit just like that...
Posted 06/10/2016 01:09 PM
barbsteff:
Stunning! Profound. I love "thwap" too. No other word would do the job as well. I too have loved near fireflies, and vacationed with them. Not so much in my current home.
Posted 06/10/2016 12:10 PM
carel:
Wow! Speaks to me of Chardin (and others) reminding us that we are all made of stardust.
Posted 06/10/2016 09:48 AM
Michael:
Really love the creativity here, Gay. Thank you.
Posted 06/10/2016 09:13 AM
cork:
I love "thwap"!
Posted 06/10/2016 08:53 AM
KevinArnold:
What fun! No little mouse.
Posted 06/10/2016 08:33 AM
michaelanderson:
Beautifully crafted, Gay. Spare and tight but full of emotion. Well done!
Posted 06/10/2016 08:16 AM
Gilbert Allen:
That final image is memorable indeed.
Posted 06/10/2016 07:17 AM
blueskies:
Stunning! Opting to be the stars at last! Thanks & Blessings,Gay.
Posted 06/10/2016 05:52 AM
r1manchester:
something, I think, we all ponder from time to time....nice job!
Posted 06/10/2016 04:40 AM