I follow windrows as they curve
around the field's geometry.
Rows of cut red clover and timothy
lie yet unsquared.
Driving our ancient tractor, I'm satisfied
with a perfect turn, the roller coaster rush
of throttling up over ruts.
Our finances are precarious
as the glue holding together my glasses.
Still, the conjunction of deep blue and green
plus birdsong, equals peace.
My sons lift bales from the field
a smooth ballet of strength
that plays like baling twine
unrolling steadily through the day.
My daughter stacks teetering rectangles
as her father pulls the wagon,
head turned watchfully.
Afternoon light shines in their hair.
They call to one another, laughing as they work
voices held aloft as chaff's long glittering.
Even swallowing this day
I couldn't feel more whole.
Hay piles up in the barn's dark recesses
like stored sunlight.  
 
This poem first appeared in Atlanta Review. 
Used here with the author's permission.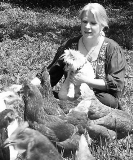 Laura Grace Weldon is the author of a poetry collection titled Tending and a handbook of alternative education, Free Range Learning. She admits she would get more done if she didn't spend so much time reading library books, cooking weird things, and singing to livestock at her home in Litchfield, Ohio. Learn more about Laura at lauragraceweldon.com.
rhonasheridan:
I would love to know Laura. A very lovely poem.
Posted 06/15/2016 09:53 AM
ElizabethP:
What a wonderful picture - I can see and even smell it all! Thank you so much!
Posted 06/12/2016 03:44 PM
Lori Levy:
This poem creates such a beautiful picture!
Posted 06/11/2016 03:13 PM
matthewthomasphillips:
Jayne's introduction was spot on -- the last stanza is killer.
Posted 06/11/2016 02:21 PM
Jo:
a beautiful poem, so many lasting images, Laura. Thanks so much--and you too, Jayne. A winner.
Posted 06/11/2016 01:24 PM
barbsteff:
Quite the old-fashioned way of haying, since supplanted by a baler that cut the hay, baled it (rectangular bale) and egested it to a person on a trailing wagon to stack it. That's now supplanted by the big machines that roll out hugh circular bales, which need to be moved by front end loaders.
Posted 06/11/2016 11:57 AM
Sarah Russell:
What a wonderful word picture. I was there with you. "... chaff's long glittering..." "...stored sunlight..." Just beautiful!
Posted 06/11/2016 09:44 AM
hujsaked@aol.com:
Classy poem. Brings back everything but the perspiration. Ed Hujsak
Posted 06/11/2016 09:12 AM
Janet Leahy:
Beautiful language in this poem—stored sunlight in the barn's dark recesses, thanks Laura Grace.
Posted 06/11/2016 08:24 AM
blueskies:
A simple bale of hay shall never be the same for me... After this glowing poem, Laura Grace. Thank you!
Posted 06/11/2016 07:48 AM
Newf:
Yes, you can just see it all. Hard work, but wonderful. Peaceful.
Posted 06/11/2016 07:09 AM
Jean :D:
Sounds like a good family working together and enjoying their life on the farm, in spite of some hardships. Great example for all, LGW!
Posted 06/11/2016 06:57 AM
mjorlock:
Vivid and precise. Terrific job!
Posted 06/11/2016 06:45 AM