The holiest of all holidays are those
Kept by ourselves in silence and apart;
The secret anniversaries of the heart,
When the full river of feeling overflows;—
The happy days unclouded to their close;
The sudden joys that out of darkness start
As flames from ashes; swift desires that dart
Like swallows singing down each wind that blows!
White as the gleam of a receding sail,
White as a cloud that floats and fades in air,
White as the whitest lily on a stream,
These tender memories are;—a fairy tale
Of some enchanted land we know not where,
But lovely as a landscape in a dream.
This poem is in the public domain.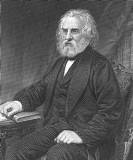 Most experts would agree that Henry Wadsworth Longfellow was the most popular American poet of the nineteenth century. A family man who suffered much tragedy in his personal life, Longfellow was the first of a group of writers known as the "Fireside Poets," called such for their popularity with families all over the country who gathered by the fire in the evenings to read the work of these poets aloud. Longfellow published poetry over a forty year period, and enjoyed public adulation in line with that of rock stars and celebrities today.
transitions:
Well, I like it too. Those secret anniversaries of the heart, unknown to all others ~ precious only to your own ~ sacred. Judy
Posted 12/30/2014 05:48 PM
rhonasheridan:
A delightful poem. Especially for we older ones. It is so true
Posted 12/30/2014 12:54 AM
dotief@comcast.net:
This is lovely, and it is very true. I find myself celebrating such "holidays" the older I get.
Posted 12/29/2014 09:59 AM
lincolnhartford:
Well I like it. The subject is my own. And he weaves one line into the next, keeping his rhyme and meter at hand without burdening you with it. Is it a sonnet; maybe so. I can imagine those fireside readings.
Posted 12/29/2014 08:06 AM