Iíll saddle the roan then ride out alone
neath a clear moon with frost on the ground,
to a high ridge I know
through the dark pines and snow
far away from the dim lights of town.

In a short space of time a hillside Iíll climb
to the top with my face to the wind,
and there Iíll just wait
as the hour grows late
and a new year once more will begin.

Iíll take a look then on where I have been
and the changes the old year has brought,
the good times and bad
some happy some sad
as the faces of time fill my thoughts.

In the silence of night from that small patch of white
Iíll say "Adios" to lost friends,
with a small prayer at last
for the present and past
then Iíll ride down that hill once again.

From A Little Bit of Texas (Passage Publishing).
Copyright held by Judith Nichols. Used here with her permission.
†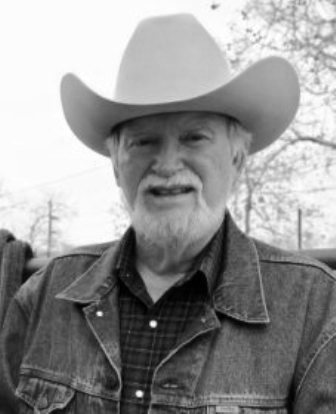 Rod Nichols (1942 - 2007) was a lifelong Texan. A high school speech and English teacher and debate coach for twenty years, he earned both a B.A. and a Masterís from the University of Houston. Always creative, his various pursuits brought him many awards, but his talent didnít turn to poetry until late in life. Fascinated with the Old West and the life of the American cowboy, Rod published three collections of cowboy poetry, one of which garnered the prestigious Will Rogers Medallion Award from the Academy of Western Artists, and numerous cds.Though his books are currently out of print, his work is widely anthologized and continues to be featured in venues ranging from Ralphís Backporch Radio Show to the Republican National Convention.
†
pwax:
Lovely end of the year poem. Adios to lost friends.
Posted 12/31/2014 09:38 PM
Jo:
Beautiful poem, Rod. I, too, like "in the silence of night from that small patch of white"--thank you.
Posted 12/31/2014 12:30 PM
transitions:
Love "in the silence of night from that small patch of white" ~ thank you, Rod...a uniquely American poet, and adios ~ Judy
Posted 12/31/2014 10:43 AM
Cindy:
lovely
Posted 12/31/2014 08:52 AM
Sherry:
I love this quiet, beautiful poem.
Posted 12/31/2014 08:21 AM
paradea:
Here are some simple thoughts with deep meaning. Good for every old cowboy and even some cityslickers! I love eclectic. Happy New Year!!
Posted 12/31/2014 07:56 AM
KevinArnold:
Jayne is nothing if not eclectic. Good find.
Posted 12/31/2014 12:22 AM