Another fresh new year is here . . .
Another year to live!
To banish worry, doubt, and fear,
To love and laugh and give!

This bright new year is given me
To live each day with zest . . .
To daily grow and try to be
My highest and my best!

I have the opportunity
Once more to right some wrongs,
To pray for peace, to plant a tree,
And sing more joyful songs!
Copyright and/or publication information unable to be
determined, despite extensive research.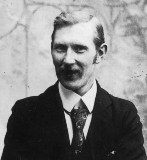 William Arthur Ward (1921 - 1994) is considered one of America's foremost inspirational writers, with columns, quotes, and poems appearing multiple times in major publications during his lifetime and still widely referenced today. Born in Louisiana, he served in the U.S. Army before becoming a college administrator. William was also an editor, teacher, and pastor, and served on the board of directors for many nonprofit organizations.
paradea:
Right on!!!
Posted 01/01/2015 08:41 PM
phebe.davidson@gmail.com:
Thank you for this!
Posted 01/01/2015 07:11 AM