Spike-haired, brass-blonde,
they invade the bluegrass suburbs
where blades form a passive sameness
if tended as intended. They strut
across the green of everyday --
strumpets in tattered leafy skirts,
stiletto roots -- bestowing downy favors
on the summer breeze.


© by Sarah Russell.
Used with the author's permission.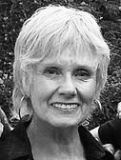 Sarah Russell lives in State College, Pennsylvania with a patient husband and a curly dog named Smudge. She co-edits Pastiche, a local literary magazine, and her poetry has appeared in dozens of journals and anthologies. Sarah humiliates her six grandchildren by knitting them sweaters for their birthdays, and the spring wreath on her door is home to a family of finches who return every year. Learn more about her at www.sarahrussellpoetry.com.
Wilda Morris:
A fun poem about a sunny-faced wildflower.
Posted 07/11/2016 06:16 AM
Sarah Russell:
Thanks so much, Everyone. A fun poem to write!
Posted 07/10/2016 07:50 PM
Lori Levy:
Great image of dandelions!
Posted 07/10/2016 12:13 PM
transitions:
Great poem, love dandelions!
Posted 07/10/2016 11:56 AM
Jean Colonomos-1:
Jean Colonomos How lucky I am to wake up to such a deft and quirky poem.
Posted 07/10/2016 11:07 AM
cork:
What a beautiful metaphor!
Posted 07/10/2016 08:14 AM
ronaccount:
a fun way to start the day. Thank you
Posted 07/10/2016 07:33 AM
Janet Leahy:
Strumpets with stiletto roots—oh yes!! Thanks Sarah.
Posted 07/10/2016 07:14 AM
Larry Schug:
The more times I read this, the more I like it.
Posted 07/10/2016 07:02 AM
blueskies:
Jayne called IT! A dandelion shall never be the same...a shining delight to wake-up to this morning. Thank you, Sarah.
Posted 07/10/2016 05:57 AM