Pale green and stringy
stubborn as an adolescent
celery breaks through its plastic bag
too gawky to settle down
in the vegetable drawer
Itís the flag pole in a Bloody Mary
announcing healthiness
in a pool of red booze.
The too tall girl in 6th†grade
who rounds her high shoulders
and lowers her head
to hide her beauty.
Celery wears its ruffley little hat
on the inside
you have to pull it limb
from limb to see it.
Turgid with water
bound by hard threads
celery is the serious one.
Unlike the popular carrot
and winsome tomato
itís lost in the circus tent
of multicolored peppers,
suggestive avocados.
No one paints a still life of celery.
Chopped tiny
forgotten in the soup
celery tells its secrets
to the tuna sandwich,
blusters occasionally
in sharp-tongued salt.
Loyal and upright
itís here to stay.
†
©†by Katharine Harer.
Used here with the authorís permission.
†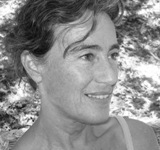 Katharine Harer is the author of six collections of poetry and often performs her work with jazz musicians. A community college writing teacher for more than 30 years, she enjoys baseball, jazz, swimming, and growing vegetables in the backyard. Mother of a grown son, Katharine lives in San Rafael, California, just across the bridge from San Francisco, where she grew up.
collage2:
What a lovely, funny, fresh look at celery! I will never see it the same way again. Thank you.
Posted 07/23/2016 11:39 AM
Ross Kightly:
A late word of praise and thanks from a celery-lover in a household where most of the shopping is done by one who loatheth the wonderful vegetable! Let's hear it again and again for celery! YAY!!
Posted 07/15/2016 02:46 AM
transitions:
Oh, well done! Wonderful poetic tribute to celery (I love celery)...who knew it was All That? :)
Posted 07/12/2016 12:05 PM
jtmilford:
I loved your poem. Perfect!
Posted 07/11/2016 04:15 PM
Jancan:
I thoroughly enjoyed this lively, highly creative character sketch. Great poem! Janice
Posted 07/11/2016 01:51 PM
bettiebill:
I love celery in a Bloody Mary. Now I love it even more!
Posted 07/11/2016 12:24 PM
Alarie Tennille:
Well done! Thank you, Katherine. Only now I'm craving tuna salad with celery. Readers who enjoy this should check out the food odes by Kevin Young.
Posted 07/11/2016 12:14 PM
barbsteff:
Clever! My husband loves celery. I tolerate it.
Posted 07/11/2016 12:00 PM
Lori Levy:
Great depiction of celery!
Posted 07/11/2016 09:55 AM
Glen Sorestad:
A delightful look at the staid celery. It got my morning off to an entertaining start.
Posted 07/11/2016 09:48 AM
erinsnana:
I love this!
Posted 07/11/2016 09:18 AM
jayne:
Jane Eva, we want to see the finished painting!
Posted 07/11/2016 09:08 AM
Larry Schug:
I think you've nailed it! We're all celery at some point in our lives.
Posted 07/11/2016 07:58 AM
Gilbert Allen:
Imaginative and deftly phrased--a nice way to start the day.
Posted 07/11/2016 07:41 AM
Wilda Morris:
Well done!
Posted 07/11/2016 06:15 AM
blueskies:
Wish I could paint it! Stunning perspectives into a not oft' celebrated veggy. Delightful poem.Thanks, Katherine.
Posted 07/11/2016 05:46 AM
Jane Eva Cooper:
Just wonderful! One of my favourite vegetables and so brilliantly celebrated. . . . . and in honour of you Katherine I shall paint this noble and delicious plant.
Posted 07/11/2016 04:31 AM
Phyllis Beckman:
This poem astonishes me! It is a WOW! Thank you Katharine.
Posted 07/11/2016 03:48 AM