They are not sleeping, the two
people in the corner
room of the apartment:
                                          Outside,
the twelve-o'clock whistle
in town, the black wash
of wind like surf
under the window,
                                 Inside,
the tiny rasp of breath in the bed
at the end of their bed
like a breeze lifting a blue dinghy
they have no idea how to sail.

This poem first appeared in Southern Poetry Review,
Used here with the author's permission.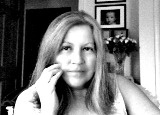 Sherry Beasley is the award-winning author of four poetry chapbooks and her work has appeared in numerous literary journals. Founder and senior editor of Astounding Beauty Ruffian Press, she is also a professional designer and artisan. Sherry, a native Virginian, lives near the Blue Ridge mountains.
jtmilford:
Beautiful way to express it so very true.
Posted 08/20/2016 02:41 PM
Lori Levy:
Especially love the last 2 lines.
Posted 08/20/2016 10:48 AM
Larry Schug:
I guess we all need to learn how to sail our boats each morning. The sea, the winds are forever changing.
Posted 08/20/2016 07:18 AM
plgoodman:
Love your images. Simple yet oh, so complex! Lovely.
Posted 08/20/2016 07:10 AM
Laurenepersons:
Great analogy--boating and motherhood. Just when you get it down, the winds change. So worth, though.
Posted 08/20/2016 06:44 AM