The teenage girl brought her smart-mouth
and new friend to the dinner table.
Over roast chicken, mashed potatoes,
green beans, then cherry pie,
she and her grandfather
jousted and bandied thoughts
on the world's doings.
The friend listened, open-mouthed,
at the wide-ranging, hot discussions.
 
After a sharper than usual
verbal jab from the elder
the girl leaned forward and said,
"Look here, Grampy,
under those hurtful, awful,
dreadful, terrible words,"
(her friend gasped)
"I know you worship me,
adore me" (his fingers tapped
the rhythm on his knee, a smile
grew in his eyes).
"You think I'm the cat's pajamas"
(her voice triumphant)
"the utterly most!"
 
They beamed at each other,
leaned across the corner
of the table, exchanged
a soft butterfly kiss.
This poem first appeared in Advocate (2014).
Used here with the author's permission.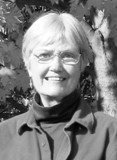 Patricia Wellingham-Jones lives on a creek in rural northern California where she enjoys writing about the things that happen around her – past and present. A retired RN, psychology researcher, and editor/writer/publisher, she is the author of a number of books and has a special interest in healing writing. Chapbooks include Don't Turn Away, poems about breast cancer; End-Cycle, poems about caregiving; Apple Blossoms at Eye Level, Voices on the Land, and Hormone Stew.

Lori Levy:
My grandchildren are younger, but I loved this poem!
Posted 09/11/2016 10:33 AM
KevinArnold:
Not many have that wonderful a grandpa experience . . . so well evoked.
Posted 09/11/2016 09:35 AM
blueskies:
Ohhhhh.So unexpected,and so beautifully gathered...the JOY(s) of grandparents! Thank you so much, Patricia.
Posted 09/11/2016 09:34 AM
Newf:
One of the most wonderful things I have ever read. Many thanks for the beautiful picture it evokes.
Posted 09/11/2016 03:28 AM