My canoe drifts
along a shore
where an eastern
kingbird hovers
over pickerelweed
blossoming blue;
the white band 
of his tail curves,
a crescent moon rising.
The kerrrrplunk
of a large-mouth bass
rings like old silver
lightly dropped
from generous hands;
it is a treasure
like the burry tones
of thrush
and warbler trills,
woodpeckers
rat-a-tatting,
blackbirds chatter
one by one,
then all together.
This poem first appeared in the 2005 Wisconsin Poets Calendar.
Used here with the author's permission.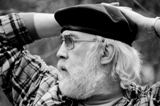 Jeffrey Johannes is an artist and poet who lives in Port Edwards, Wisconsin. He co-edited the 2012 Wisconsin Poets' Calendar with his wife, Joan.
Jeffrey is the author of a chapbook, Ritual for Beginning Again, and is currently combining his art and poetry to create comics, which he calls ?pometoons." Learn more about him here.
barbsteff:
Perfect account of a poet paying attention! Crisp images.
Posted 09/13/2016 04:43 PM
jeanie:
super nice jeffrey!
Posted 09/12/2016 08:21 PM
carel:
I felt the essence of Wisconsin as I read these living words. Beautiful, like this September morning in Lake Geneva!
Posted 09/12/2016 09:31 AM
Lori Levy:
Soothing to read.
Posted 09/12/2016 08:54 AM
ed werstein:
Very nice, yes.
Posted 09/12/2016 08:51 AM
Larry Schug:
I kept waiting for otters to appear in the words, though they are conspicuous in their absence. A lesson on focusing on what's in front of you, not what you might want to see. Nicely done.
Posted 09/12/2016 08:03 AM
mimi:
love it, Jeffrey, beautifully vivid images...
Posted 09/12/2016 07:33 AM
blueskies:
Indeed, a treasure of nature! Thanks, Jeffery.
Posted 09/12/2016 05:56 AM
Gary Busha:
Yes.
Posted 09/12/2016 05:52 AM