someone stuck a butterscotch
on a high-noon bleach-blue sky
it sweals mad dogs and Englishmen
and makes air conditioners cry

no mercy rays in whip-crack heat
even shadows vanish in retreat

a furnace paints with farm toil sweat
martyrs ice cream cones with no regret
every solid cool makes a sacrifice
and necks worship cubes of ice

at times like this when summer's heat says high
it's only cool when the heat waves goodbye

© by Steve Croisant.
Used with the author's permission.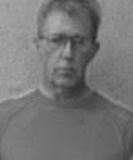 Steve Croisant was born in Springfield, Illinois, but grew up in and around the Denver, Colorado metro area. He tried writing poetry in his early teens but, in his words, "failed miserably." He tried again in his late thirties and has stuck with it ever since, participating in various poetry organizations and open mics and publishing in journals and ezines. Today, Steve lives in Grand Junction, Colorado, where he spends his time dabbling in song lyrics and refurbishing musical instruments.
Lori Levy:
Love the language in this poem.
Posted 09/13/2016 09:50 PM
barbsteff:
evocative of real heat. Sweal tripped me up. Whole piece rather remnds me of an e.e. cummings work.
Posted 09/13/2016 04:58 PM
nobotou:
thank you very much for the commentary, much appreciated. to all, peace, and be well. s. croisant
Posted 09/13/2016 01:30 PM
KevinArnold:
Fun.
Posted 09/13/2016 09:48 AM
Michael:
Love the whole poem, Steve, but especially the turn of phrase in the last two lines. Thank you.
Posted 09/13/2016 08:41 AM
paradea:
Neat!!
Posted 09/13/2016 08:25 AM
Larry Schug:
Every word of this hot poem is cool.
Posted 09/13/2016 08:07 AM
pl. wick:
Up early a.m. dark--always nice to start the day with a smart piece of writing. "sweal" it takes an astute wordsmith to create so succinctly. Visualization, the key to successful "poetry"...this piece's got it in spades. pl. wick
Posted 09/13/2016 02:15 AM