Norfolk, Virginia
My red wagon chanted magic –
ka-Dunk, ka-Dunk, ka-Dunk, ka-Dunk –
at last, at last, at last, at last –

as it rode the planks on the pier.
Coolers, fishing gear, everything
we'd need to spend the night.

The amusement park lights
went out, taking away the roar
of voices and laughter.

Leaving just the cool, the blessed cool.
The sea now a black sky with green
moons cast from the pier lamps.

I liked to fish in those circles
of light to see what I was pulling
up. The croaker, spot, rock fish,

or flounder for Sunday supper
or things that made me squeal
for Daddy: eels, blowfish, crabs.

Sleep, sleep, sleep, said the surf
as I curled on a bench. Mama
and Daddy continued to cast out.

They woke me when sun broke
the spell.
This poem first appeared in Kindred.
Used here with the author's permission.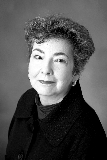 Alarie Tennille was born and raised in Portsmouth, Virginia. A Phi Beta Kappa, she graduated from the University of Virginia in the first class that admitted women. She met her husband, graphic artist Chris Purcell, in college and they now live in Kansas City, Missouri, where Alarie serves on the emeritus board of The Writers Place. Alarie believes her writing skills were born from her parents' knack for storytelling–long, meandering tales she asked to hear again and again. "There was usually dance music in the back-ground," she says, "the sounds of cicadas, and the clink of ice in glasses of sweet tea. Weekends brought rolling surf, laughing gulls, and the calliopes of amusement park rides." Learn more about Alarie at www.alariepoet.com.
blueskies:
Another shining transporting poem! Thanks, Alarie
Posted 09/25/2016 05:52 PM
Lori Levy:
Love the picture this poem paints.
Posted 09/25/2016 10:42 AM
ElizabethP:
Wonderful memory; wonderful poem. Thanks!
Posted 09/25/2016 08:45 AM
Katrina:
These are great sounds.
Posted 09/25/2016 07:31 AM
Laurenepersons:
Beautiful images. You cast lines of magic so I am on the pier, too.
Posted 09/25/2016 06:12 AM
Newf:
Beautiful just beautiful. I can smell the ocean.
Posted 09/25/2016 03:12 AM