From Los Angeles, where I was born,
take the San Bernardino Freeway east
past San Gabriel, Glendora, Covina,
up the hill by Forest Lawn,
down into the traffic clumped
where the 210 joins the 10.
Turn on the radio if you like,
thereís quite a way to go.
Pomona, Claremont, Ontario.
Here, if you want,
you can turn off at the airport,
catch a flight to someplace else.
Fontana, Rialto, Bloomington.
You may not have noticed it
but the road has been climbing all the way.
Thatís San Bernardino on the left.
Youíre in Redlands now,
the climb is a little steeper.
Exit on the Yucaipa offramp.
Just over the bridge,
turn right on Highview.
Stay there through two marriages,
a divorce, a child custody suit,
a brain tumor and a mother
with Alzheimerís.
Soon youíll reach where I live.
This poem first appeared in Fox Adoption Magazine (April 2015).
Used here with the authorís permission.
†
†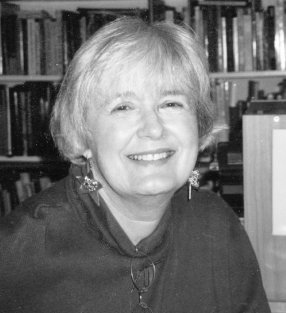 During her life, Ruth Bavetta has moved from geology/paleontology to painting to poetry. She writes at a messy desk overlooking the Pacific Ocean. Visual art informs many of her poems, as does the landscape of Southern California, where she has lived all her life. Ruth also writes of cooking, of her Italian immigrant family, the experience of growing old, the singularity of toothpicks, and the sorrow of Afghanistan. She likes the light on November afternoons and the smell of the ocean; she hates pretense, fundamentalism, and sauerkraut. Learn more about her at www.ruthbavetta.com.
jtmilford:
A great straightforward poem. It seems that when you turned right on Highview life got really complicated.
Posted 09/26/2016 07:59 PM
Mary Langer Thompson:
Ruth, I love how it goes from the simple, familiar (to me) parts of your life to the more complex. Beautiful.
Posted 09/26/2016 06:46 PM
peninsulapoet:
Terrific poem. Sauerkraut is good with leftover salmon.
Posted 09/26/2016 10:56 AM
NormaB:
Wonderful! The last line hit me in the gut!
Posted 09/26/2016 10:42 AM
Lori Levy:
Love the surprise ending in the last stanza.
Posted 09/26/2016 10:10 AM
Sarah Russell:
You made it a delightful journey, Ruth.
Posted 09/26/2016 09:58 AM
ElizabethP:
Very nicely done. I love the way you share the journey. Thanks!
Posted 09/26/2016 09:33 AM
Glen Sorestad:
I love the turn the poem takes on Highview, Ruth. Well done!
Posted 09/26/2016 09:25 AM
Jean :D:
Great Poem! Ditto Larry S's comments, especially about the GPS.
Posted 09/26/2016 08:58 AM
mjorlock:
I love this! The set up is perfect and the delivery in that last stanza is both amusing and poignant.
Posted 09/26/2016 08:14 AM
Larry Schug:
Excellent! I like the use of place names. this poem is like unfolding a large paper map full of information and options that you don't get using a GPS. You can find your own route to anywhere, which is where a good poem such as this takes you.
Posted 09/26/2016 08:04 AM
plgoodman:
Love the marvelous detail. And what a clever way to tell a story. Well done.
Posted 09/26/2016 07:04 AM
mimi:
Ruth, wonderful poem! Love the map idea..but I still wish you liked sauerkraut! Sharon Auberle
Posted 09/26/2016 06:52 AM
blueskies:
Found me a new shining'keeper'! Thanks,Ruth.
Posted 09/26/2016 05:37 AM