Harvest twilight
balancing the dark gently
on scarecrow's shoulders
This poem first appeared in Frogpond (Volume XIII, Number 4, Haiku Society of America, Nov.1990).
Used here with author's permission.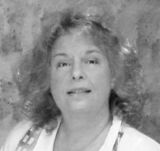 Arlene Gay Levine is the author of 39 Ways to Open Your Heart: An Illuminated Meditation (Conari Press) and Movie Life (Finishing Line Press). Her poetry and prose has appeared in many venues, including The New York Times, an off-Broadway show, and on radio. Arlene lives with her husband in New York City, where she tends a garden of words, roses and herbs. Learn more about her at http://www.arlenegaylevine.com/.
laurasalas:
Oh, this is gorgeous! So moody.
Posted 09/28/2016 02:45 PM
transitions:
Lovely
Posted 09/28/2016 11:49 AM
blueskies:
Beauty & polarity. Hand in hand. Side by side. Thanks, Arlene.
Posted 09/28/2016 06:08 AM
rhonasheridan:
A wonderful Haiku
Posted 09/28/2016 03:00 AM