She has painted her lips
hibiscus pink,
The upper lip dips
perfectly in the center

like a Valentine heart.
It makes sense to me?
that the lips,
the open

ah of the mouth
is shaped more like a heart
than the actual human heart.
I remember the first time I saw it?

veined and shiny
as the ooze of a snail?
if this were what
we had been taught to draw

how differently we might have
learned to love.
From Talking Underwater (Wind Publication, 2007).
Used with the author's permission.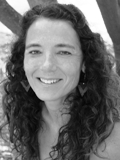 Sally Bliumis-Dunn teaches Modern Poetry at Manhattanville College. Her poems have been published in the Paris Review, Poetry London, Prairie Schooner, and the New York Times, among other distinguished journals. In 2002, she was a finalist for the Pablo Neruda Prize. Sally lives in Armonk, New York, with her husband, John, and their four children. Learn more about her here.
transitions:
Agree with last comment, insightful, well done.
Posted 09/30/2016 01:57 PM
ccmatthe:
Multi-layered meaning. Very insightful.
Posted 09/30/2016 10:40 AM
ronaccount:
This poem makes me want to kiss.
Posted 09/29/2016 11:56 AM
AllegraSilberstein:
What a beautiful and thoughtful poem about heart!
Posted 09/29/2016 11:34 AM
KevinArnold:
Now that's a title that takes great courage to put at the top of a poem, and Sally fulfills the promise. Brava!
Posted 09/29/2016 11:27 AM
wendy morton:
Your poet's eye, watching the world. The heart.
Posted 09/29/2016 10:51 AM
Gilbert Allen:
I enjoyed the thoughtful simplicity of this fine poem.
Posted 09/29/2016 09:06 AM
njc:
Love it!
Posted 09/29/2016 08:40 AM
Glen Sorestad:
Thanks for this poem, Sally. Beautiful!
Posted 09/29/2016 08:30 AM
Larry Schug:
The final four lines blow me away. Such depth in so few words, which is what great poetry is.
Posted 09/29/2016 08:26 AM
blueskies:
Hibiscus pink! Lov'd it all. Thanks, Sally.
Posted 09/29/2016 06:09 AM