The cicadas rub their legs —
a late afternoon symphony
in the sun.
They are singing their goodbye song —
a buzzing, rattling maracas farewell.

The first few branches
on the eldest tree by the pond
abandon summer green
for autumn's russet glory.

Majesty is on the way —
a wildfire rush of color across the fields,
like fervent runners passing the baton
after each lap and leap across the line.

We come to the season of turning leaves
with great humility,
knowing that, like a flash of light
in the midnight sky,
its beauty is brief.
It gives birth to spartan times of growth
and the quiet, galloping days
that lead to dark skies
visiting early.
From Amnesia and Awakenings ( Local Gems Press, 2016).
This poem first appeared in An Ariel Anthology: Transformational Poetry and Art (2015).
Used here with the author's permission.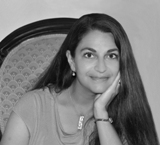 Cristina M. R. Norcross lives in Wisconsin with her husband, their two sons, and a cat who loves to sleep on a warm, humming computer. Cristina is the founding editor of the online poetry journal, Blue Heron Review, and the author of seven poetry collections. When not writing or editing, she travels to distant lands and designs jewelry from found treasures. Learn more about Cristina at www.cristinanorcross.com.
cristinamrnorcross:
Thank you so much to Jayne Jaudon Ferrer at YDP for featuring my poem, "Galloping Days," and thank you for all of these lovely, insightful, and very generous comments. I truly appreciate it! ~Cristina
Posted 10/02/2016 03:30 PM
barbsteff:
…and the quiet, galloping days -- perfect! Barb Germiat
Posted 10/02/2016 02:18 PM
transitions:
A lot of truth in this poignant poem. Many original images and the resonating "dark skies visiting early"... yes...loved it.
Posted 10/01/2016 12:23 PM
ghctenmile@earthlink.net:
What beautiful words for what we see and feel in autumn. Thanks for sharing your work.
Posted 10/01/2016 11:15 AM
mjorlock:
Beautiful imagery and inventive word play on display in this poem. It captures the season precisely and concisely.
Posted 10/01/2016 08:55 AM
Jancan:
What a beautiful poem--made me smile and say "Ahhh . . ."! Thanks for sharing this piece about my favorite season. The "runners" simile is especially memorable. Janice
Posted 10/01/2016 08:46 AM
Janet Leahy:
There is a galloping rhythm to autumn with "the dark skies visiting early." Lovely poem, thanks Cristina.
Posted 10/01/2016 07:32 AM
blueskies:
...We come to the season of turning leaves with great humility, knowing that, like a flash of light in the midnight sky,its beauty is brief. Honestly stunning! Thanks, Cristina.
Posted 10/01/2016 07:28 AM
mimi:
lovely and poignant poem, Cristina... Sharon Auberle
Posted 10/01/2016 07:19 AM
Gary Busha:
Good images.
Posted 10/01/2016 06:47 AM
Newf:
This is a beautiful poem. Even with its beauty, autumn is a sad time.
Posted 10/01/2016 06:17 AM