Up the dusk-enfolded prairie,
Foot-falls, soft and sly,
Velvet cushioned, wild and wary,
Then - the coyote's cry.

Rush of hoofs, and roar and rattle,
Beasts of blood and breed,
Twenty thousand frightened cattle,
Then - the wild stampede.

Pliant lasso circling wider
In the frenzied flight - 
Loping horse and cursing rider,
Plunging through the night.

Rim of dawn the darkness losing
Trail of blackened soil;
Perfume of the sage brush oozing
On the air like oil.

Foothills to the Rockies lifting
Brown, and blue, and green,
Warm Alberta sunlight drifting
Over leagues between.

That's the country of the ranges,
Plain and prairie land,
And the God who never changes
Holds it in His hand.
This poem is in the public domain.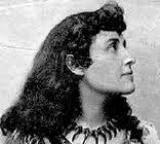 E. Pauline Johnson (1861 - 1913) was one of Canada's most popular and successful entertainers at the turn of the 20th century. The daughter of a Mohawk Native-Canadian father and an English mother, Pauline Johnson--at the age of 31--when her society expected her to marry and have children, adopted the name "Tekahionwake," created a Mohawk costume, and began touring Canada giving popular recitals of her poetry, comedy routines and plays. She was the first Native poet to have her work published in Canada, and was one of the few female writers at the time who could make an independent living from what she wrote and performed.
barbsteff:
Very well-worked-out rhyme scheme! interesting.
Posted 10/02/2016 02:54 PM
KevinArnold:
Great find, "The God who never changes / holds it in His hand."
Posted 10/02/2016 09:34 AM
Larry Schug:
Tekahionwake, we need you and your words now. I think your spirit has returned in the voices of the young.
Posted 10/02/2016 08:02 AM
blueskies:
A pure delight! The words/images/rhythm stunning. Thanks, Jayne.
Posted 10/02/2016 06:25 AM
Katrina:
This gallop of words can make a reader pant with participation in the stampede. I am awe-stricken.
Posted 10/02/2016 03:59 AM
Newf:
I woke from a nightmare. What a wonderful poem, I have a book of Pauline Johnsons poems. The bio told me things that I didn't know. Thank you Jayne, I appreciate this one. Just love it.
Posted 10/02/2016 02:13 AM