All the things my grandmother was not,
I will be for your daughter.
I will tease her with sprigs of dandelion
in the springtime,
tempt her with ripe red melons
in the summer sun,
laugh with her in the languid blaze
of autumn,
cherish her warmth in the starkness
of winter's chill.
We will have secrets,
she and I.
About cookies
and boyfriends,
lipsticks
and lollipops,
late nights,
early mornings,
and love.
I will wipe away her freckles
with the milky mist of twilight;
she will wipe away my age spots
with the dew.
Together, we will
fret about,
forage through, and
feast upon life
from
one end
to the other.

From Dancing with My Daughter: Poems of Love, Wisdom & Dreams (Loyola Press) 
Used here with the author's permission.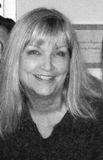 Jayne Jaudon Ferrer is the author of four books of poetry and a nonfiction book about games. She speaks frequently at chuches, schools, and writing-related events and her work has appeared in hundreds of publications. Jayne is the founder and editor of YourDailyPoem.com and enjoys reading, music, old movies, and good conversation. A native Floridian, Jayne has lived in Greenville, South Carolina, for more than 20 years. Learn more about her at www.jaynejaudonferrer.com.
Marileta:
Lovely! May all that come true for you.
Posted 10/08/2016 08:40 AM
Kathleen Carlson:
Delightful poem, Jayne. I did not know either of my grandmothers or grandfathers. They died overseas in the country my parents had left behind. I am 70 years old now and your poem makes me miss them more.
Posted 10/06/2016 03:19 PM
Sherry:
Beautiful, Jayne! I am now the grandmother of two girls and a boy, so I can totally relate!!
Posted 10/06/2016 10:23 AM
Jo:
Beautifully expressed, Jayne. Thank you so much for sharing it.
Posted 10/05/2016 10:39 PM
plgoodman:
Right on Jane. Beautifully expressed in a GOOD poem. Wonderful.
Posted 10/05/2016 07:36 PM
MLove:
Oh that made me tear up. I didn't have a relationship with either of my grandmothers due to being born when they were both elderly, sick, and demented. I am so happy for you - you're already a great Grandma!
Posted 10/05/2016 05:24 PM
jtmilford:
A wonderful poem so beautifully expressed. Thanks
Posted 10/05/2016 03:24 PM
joecot:
Speaking as a grampa myself, you nailed it. And hey -- welcome to the club.
Posted 10/05/2016 01:03 PM
Jancan:
What a great poem! I especially love the imagery in the lines about freckles and age spots. Janice
Posted 10/05/2016 12:39 PM
loisflmom:
This is the grandmother I had until her death when I was thirteen.
Posted 10/05/2016 10:35 AM
Gail from MA:
This is a delight, Jayne. Thanks for sharing it. You have delicious days ahead.
Posted 10/05/2016 09:46 AM
blueskies:
Your love & poem shines brightly! Thanks, Jayne.
Posted 10/05/2016 09:45 AM
TheSilverOne:
Loved this! Reminds me of my granddaughter and I.
Posted 10/05/2016 09:31 AM
Katrina:
That's a taste of happiness.
Posted 10/05/2016 09:08 AM
KevinArnold:
Delightful.
Posted 10/05/2016 08:16 AM
mjorlock:
Sweet and sentimental, Jayne. You will be amazed how fast your granddaughter will grow so savor every moment.
Posted 10/05/2016 08:16 AM
Michael:
Jayne, I'm forwarding this one to my wife who will relish everything in it! Thank you.
Posted 10/05/2016 08:13 AM
mimi:
lovely, Jayne, enjoy every minute with her!
Posted 10/05/2016 07:28 AM
Sarah Russell:
This arrived while I am spending time with my 4 granddaughters (and 2 grandsons). What a joy they are. Your poem tells what I try to experience with them. Thank you!
Posted 10/05/2016 07:26 AM
Newf:
Granddaughters are wonderful. I have four This is a wonderful poem.
Posted 10/05/2016 07:14 AM
laurasalas:
Oh, love this. Lovely ending. My only grandmom who was local was cold and negative. Your poem shows the kind of grandmom I hope to be someday.
Posted 10/05/2016 05:58 AM
rhonasheridan:
Absolutely lovely Jayne.
Posted 10/05/2016 04:55 AM
r1manchester:
Jayne....nice poem....yes, grandkids can be a lot of fun and a source of joy....enjoy them when they are young always remembering, of course, that someday they will become teenagers!
Posted 10/05/2016 04:21 AM