In Hans' old Mill his three black cats
Watch the bins for the thieving rats.
Whisker and claw, they crouch in the night,
Their five eyes smouldering green and bright:
Squeaks from the flour sacks, squeaks from where
The cold wind stirs on the empty stair,
Squeaking and scampering, everywhere.
Then down they pounce, now in, now out,
At whisking tail, and sniffing snout;
While lean old Hans he snores away
Till peep of light at break of day;
Then up he climbs to his creaking mill,
Out come his cats all grey with meal - 
Jekkel, and Jessup, and one-eyed Jill.
This poem is in the public domain.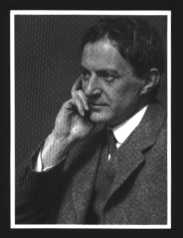 Walter de la Mare (1873 - 1956) was a British author of diverse talent who wrote everything from horror stories to children's books. Known to family and friends as "Jack," his work tended to focus around the themes of childhood, imagination, and the supernatural. Happily married to a woman ten years his senior, with whom he had four children, Walter spent nearly twenty years working as a bookkeeper before a government pension finally allowed him to fully devote his time to writing. For more information, visit The Walter de la Mare Society website.
Maxadolf:
Brought back good memories of 75 years ago when we had to learn this sonnet at primary school. I wonder how one of the cats had only one eye. Did WDLM ever right a poem about the one-eyed cat or, incorporate it into one of his scary stories?
Posted 12/05/2022 01:01 PM
brendala@hotmail.co.uk:
I learnt this wonderful poem as a song whilst at school. It so enthused me that I taught it to my twin daughters Jess and Kat! And now I am going to share it with my singing group Scarabella, after all these years.....
Posted 07/05/2022 05:43 AM
Sherry:
Terrific poem! The lines about the wind are especially good.
Posted 10/24/2016 08:48 AM
rosiholl:
This put a smile on my face, but then the whole weekend did.
Posted 10/23/2016 03:16 PM
blueskies:
Great fun!
Posted 10/23/2016 11:28 AM
KevinArnold:
I agree with Jancan, Larry and Rhona: a fine selection!
Posted 10/23/2016 09:26 AM
Jancan:
This skillfully-written, lively poem was a great choice for the day! Janice
Posted 10/23/2016 07:47 AM
Larry Schug:
Most of us, in someway, are one-eyed cats, eh?
Posted 10/23/2016 07:40 AM
rhonasheridan:
We did a school poetry programme - and I was 'one -eyed Jill' ! Isn't 'memory' a good thing to have. Even if I did end up as a one-eyed cat!
Posted 10/23/2016 02:29 AM